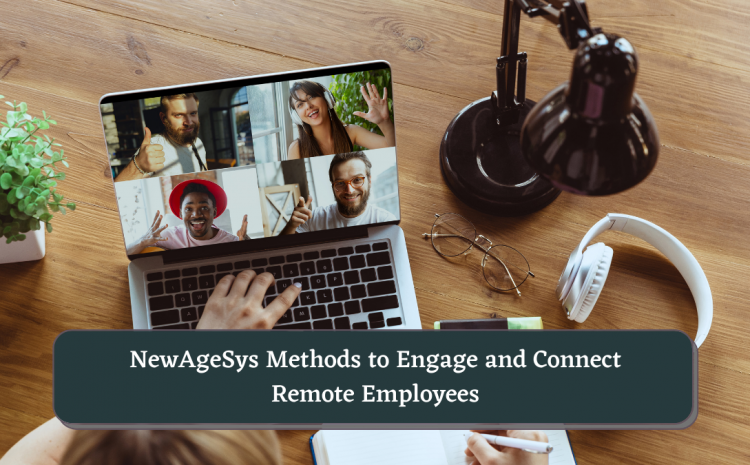 NewAgeSys Methods to Engage and Connect Remote Employees?
In 2022, every business organization has embraced remote working. However, remote working poses many challenges when it comes to engaging and connecting with employees. Here, we will list some of the strategies employed by NewAgeSys in overcoming the challenges of engaging and connecting with remote employees.
#1 Create An Engagement And Internal Communication Strategy
Life at NewAgeSys is made easier for our remote employees by building an engagement and internal communication strategy. It helps us align business goals and company milestones with the interest of our remote employees.
Such a plan can only be created if you work with the organization's leaders and ensure that they will improve communication and engagement strategies. The leaders need to commit their time, money, and resources to execute these strategies.
Furthermore, companies should develop a timeline for achieving their desired engagement and communication goals within their organization.
#2 Use Appropriate Tools And Tech
Another critical element that makes life at NewAgeSys easy for our remote employees is appropriate tools and tech solutions. As you know, remote employees depend on technology to engage with their work-related communications.
Use technologies such as SMS messages or mobile-optimized intranet communication for easy and convenient communications. Such tech would promote inclusion and interaction within your organization. However, don't go assuming that more technology equals better communication.
Put thought into the tools and tech you use for optimizing your communication. Most importantly, we collect data from our employees and examine their needs to ensure proper communication inside the company.
#3 Involvement Of Leaders And Managers
Leaders and managers are an essential part of communication within an organization. Hence, life at NewAgeSys focuses on involving the leaders and managers in all engagement and communication strategies.
Ensure that your leaders and managers lead by example regarding engagement and communication strategies inside the organization. Our leaders ensure that the employees get autonomy over their work and make decisions.
The managers must have access to the right tools and resources to engage with their team members. We ensure that our managers always share essential information with their team to align their interests with the company's interests.
#4 Keep Communications Brief And Simple
There is no point in having lengthy communication with your employees if they can not retain such a large amount of information in one go. Hence, at NewAgeSys, we make sure that our contacts are brief, concise, and snackable.
We live in a time and age where the attention span of employees is rapidly decreasing. Hence, it is only natural to optimize the communication inside an organization with concise communication. At NewAgeSys, we make it a point to prioritize and brief our communications which saves us a lot of time and effort.
We always ask ourselves, what can our employees realistically digest in transferring information. We found the most effective strategy is limiting our communications within three to five minutes through various channels, including videos, podcasts, emails, and more.
#5 Create Social Opportunities
One of the hardest things for remote workers is that they don't get enough socializing as they are always working remotely by themselves. Hence, they need a place where they can nurture their social interactions. Furthermore, it is a crucial element in building unity within a team.
Businesses need to make sure that their remote workers have the opportunity to have fun while getting to know their team better. We allocate particular time for these interactions and socialize within the group. Even something as simple as a casual meeting every week can do wonders for your business organization.
At NewAgeSys, we have an open communication channel for such casual meetings or talks. An instant messenger channel or even a group video call can be utilized to achieve the desired results. You can also implement a monthly happy hour with engaging games and activities.
Conclusion
Engaging and connecting with your remote employees is not always easy. However, you can make it happen with the right tools and guidance. Here, we have listed some of the strategies that NewAgeSys use to engage and connect with its remote employees. Similarly, every business organization can optimize its communications and engagement with its remote employees.