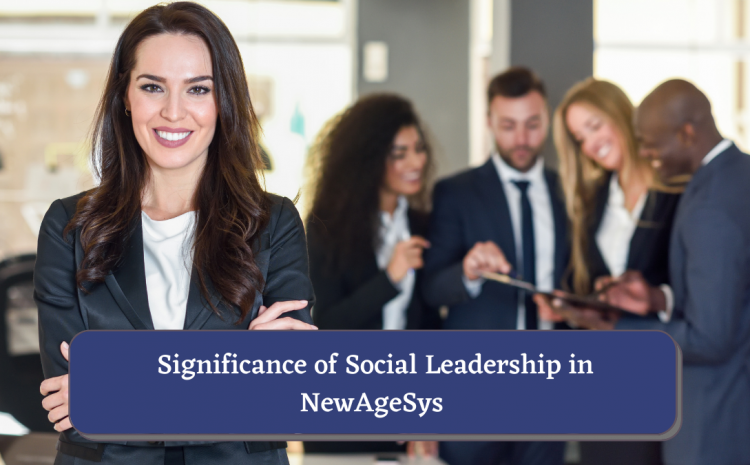 Significance of Social Leadership in NewAgeSys
Social leadership has helped NewAgeSys create a sustainable work environment that encourages the inflow of new ideas and participation of employees at all levels. This article explains how social leadership has helped NewAgeSys grow as a business organization and improve its operations.
What is Social Leadership?
The first and foremost thing about being a social leader is acknowledging your team and their role in every project you undertake. As the old saying goes, "there is no I in TEAM." A social leader should cultivate trust and respect within their team.
Developing these values inside the company encourages your team to share their ideas and collaborate. All business organizations must acquire adequate social leadership skills by building relationships and connectivity among their team.
As a result, you can create an open work atmosphere like our employees enjoy when working at NewAgeSys.
How Social Leadership Plays A Vital Role At NewAgeSys
Shared Personal, Business, And Community Purpose
Humans crave a sense of purpose in everything they do. It is no different for a business organization consisting of several individuals. Without a sense of purpose, a business organization is bound to get side-tracked and lose its ability to function efficiently.
We encourage our employees working at NewAgeSys to form a sense of direction in everything they do through social leadership. Without a compelling shared goal, organizations start to develop factions or silos within themselves, leading to dysfunction and disarray.
Overcome Complex Challenges
When you have shared goals, you also have shared responsibilities. Social leadership facilitates a new way of thinking within the organization, leading to a new way of working. In other words, social leadership brings together people from different walks of life and gives them a common goal.
Hence, whenever a challenge presents itself, the whole team can work together to overcome it. The real change you can bring in with social leadership is not technical or operational. The real difference is when people from different backgrounds, cultures, and skills work together to achieve one common goal.
Showcase Authority And Courage
By the end of the day, social leadership is still about leading your team through the rough path. It requires a great deal of skill, expertise, and authority. More importantly, the social leader needs to have the courage to do the right thing.
As a leader, your actions have both consequences and rewards. Social leaders should show the courage to take responsibility for their team and performance. Hence, it also means that you need to ensure that the duties of each individual in your team are met.
Ensure A Safe And Stable Work Environment
A safe and stable work environment is one where all your staff, regardless of their levels, feel secure to challenge the status quo. In other words, your employees are not afraid to take a risk or work with someone they usually don't have to work with.
The main reason companies have trouble implementing changes within their organizational structure is their inability to maintain a stable work environment. If your organization is not prepared to accommodate the changes, it can not grow sustainably.
Cultivate Leaders Not Followers
Social leadership works by involving every person in the team and encouraging their participation in every aspect. As a result, organizations can effectively cultivate leaders who are willing to take action rather than follow orders blindly.
Social leadership encourages your team to ask questions, bringing a degree of fairness to the organization. It also promotes kindness and respect within the workspace, encouraging your staff to express their ideas and articulate plans that help your business grow.
Conclusion
Social leadership has helped us create an encouraging work atmosphere for the employees working at NewAgeSys. All business organizations should learn the significance of social leadership and how they can benefit from it.
This article provides insight into how social leadership has helped NewAgeSys create a work environment that truly benefits the organization and its employees. It explains how social leadership solves complex problems in an organization with teamwork and dedication.
Hence, if you want to create a work environment that generates new, dynamic ideas and solutions, you need to become a social leader for your employees.