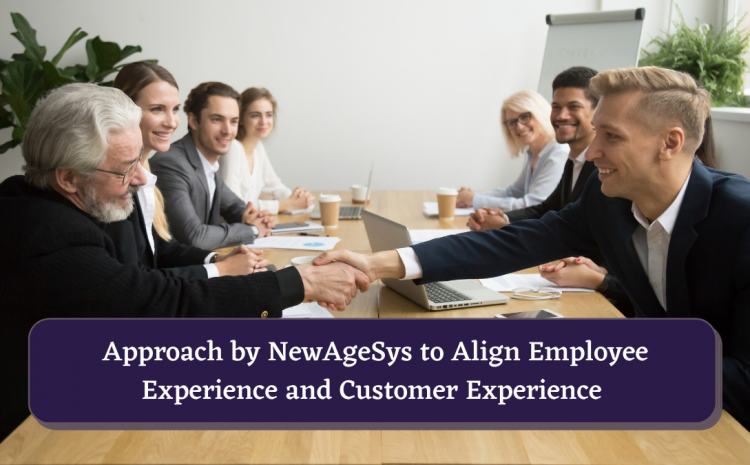 Approach by NewAgSys to Align Employee Experience and Customer Experience
"The customer is always right" is a motto that has become popular in almost all industry verticals. It makes sense to use such a motto, especially in retail. However, is it the best way to run a business? Because by the end of the day, a company is not just about its customers.
Your employees are as much a part of your business as your customers. The way you treat them can directly impact your business. Companies must align their employee and customer experience for sustainable growth.
Why Does Employee And Customer Experience Go Hand-In-Hand?
We already know why and how a customer-centric approach can benefit a company. It adds value to your company as a brand and differentiates you culturally. The customer is bound to remain loyal to your brand if you provide quality service and make them feel valued at your business.
However, focusing too much on the customer is not ideal for any business. For the sustainable growth of your business, you need to ensure that your employee experience goes hand-in-hand with the customer experience.
Here are some of the reasons you should ensure that employee experience goes hand-in-hand with customer experience.
There is a direct connection between employees satisfaction and customer satisfaction.
Satisfied employees are easier to manage and supports your managerial decisions.
Employee satisfaction enables you to promote an organizational culture.
Encourage teamwork and act as the voice of the customer inside the organization.
Build a collaborative work culture that promotes healthy competition.
Employee engagement leads to better interaction with the customers.
The attitude of the employees can influence how your customer perceives and value your brand.
More often than not, companies tend to forget or are unaware of these concessions between their employee and the customers. As a result, they often fail to reach their maximum potential.
Below are some of the approaches we take to align the experience of employees working at NewAgeSys with our customer experience.
Treat Your Employees Like The Customers Within Your Organization
The easiest way to align customer and employee experience is to treat them the same. Remember that good talent is always in high demand, and its values should never be underestimated.
Furthermore, if you consider factors such as the present demographic data and social tendencies, it is likely that good talent will be even harder to find in the future. Therefore, it is becoming increasingly necessary to hold on to your companies' existing talent.
And the most effective way to ensure employee satisfaction is to treat them like the customer's inside the organization. In other words, companies need to design an employee experience inside the organization where they feel appreciated.
Just like customer's you need to ensure that your organization can attract the right people, engage with them, and retain them for the long run.
Make Employee Engagement Practices Similar To The Ones You Create For Your Customers
Employee engagement is a lot more tricky when you use the same standards you use for your customers. However, once you get it right, it can encourage engagement and retention. A practice that has worked wonders for the employees working at NewAgeSys is the integrated employee experience program.
Creating the program enabled us to track the progress of the employees working at NewAgeSys from the first point they started interacting with your company. By keeping a record of every interaction inside the organization, you can analyze and figure out any problems.
The hard part is to factor in aspects such as emotions, people, and even objects that can affect the employee experience. But, once you've done that, you can easily ensure a memorable employee experience inside your organization.
Conclusion
Employee experience is as essential to companies as customer experience if they want to ensure the sustainable growth of their business. However, it can be tough to ensure employee satisfaction, perhaps even more than ensuring customer satisfaction.
The practices followed by NewAgeSys explained above can point you in the right direction. However, you still need to develop unique strategies relevant to your industry vertical and business to create an effective solution.