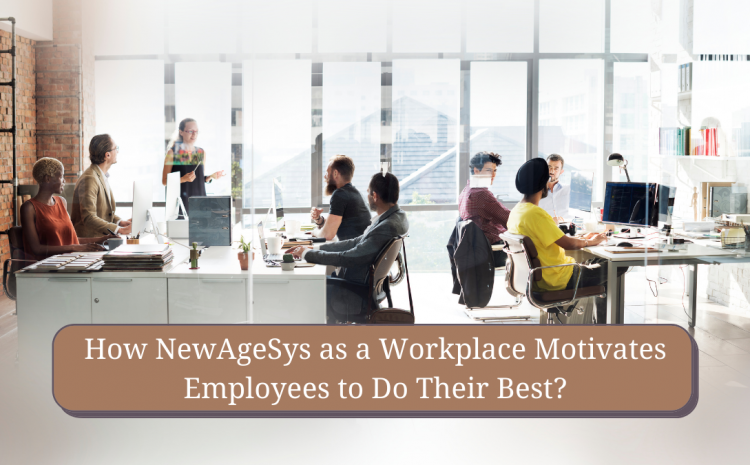 How NewAgeSys as a Workplace Motivates Employees to Do Their Best?
To be on a people's list you need a job and a quite fair earning. This will not only earn you respect from others but also self growth. The vague concept about people working for a living is untrue, there are people who work out of their passion. Yet the employees face a challenge of working out of pressure rather than passion. To build up a better working space it is prominent to look into the employee interest while moulding them to work for achieving business goals. They expect to be treated with respect, fairly paid and to have opportunities to use their skills.
Life at NewAgeSys is desirable. It ensures that the working environment is engaged by determining the employees expectations. By developing a great work environment it is in a position to boost employee morale, cheer motivation and better quality of life for its employees. It provides necessary incentives and recognition for their performance to experience clear expectations and goals.
Life at NewAgeSys motivates its employees to do their best by:
1. RECOGNITION AND RESPECT FOR THEIR PERFORMANCE.
Every human desires to be treated with respect and dignity. It is also the most wanted requirement in a workplace. Employees' work should be recognised and respected as this shall prosper the relationship between management and staff. The top level employees of the company always make sure to provide it's workers with clear information and to correct them in a professional and straightforward manner if anything goes wrong. By valuing and recognising their performance it will retain, engage them to work and improve employee satisfaction.
2. SHOW APPRECIATION
Always remember to appreciate good work and reward them as they deserve. Feel free to appreciate your colleagues and coworkers about the work they are doing and how much it benefits the company . Appreciation motivates the employees to be more productive and innovative. Encourage them by giving perks such as bonuses and paid holidays. Small surprises and tokens of appreciation will make the workers feel valued for their work.
3. LAYOUT FEEDBACK
Regular feedback is not only useful for the employees but also ensures company growth. Clearly phrased feedback shows employees that the company cares about their career.It also indicates the regular performance of employees and helps them to know where they stand and correct them from their mistakes.
4. GENERATE TRUST
Trust is earned when action meets the words. It is the foundation for any healthy relationship, including those at the workplace. The company shows workers trust by challenging them by giving added responsibilities believing that he can handle it. This will make him appreciate the trust you put in him and will be inspired to show that he can handle the work.
5. CONSTRUCT GUIDING
Build a guiding tradition where employees are able share their skills and knowledge to help each other to grow further. Appoint someone with great experience and knowledge to mentor or advise other employees. This will create a beneficial working environment. By asking someone to act as a mentor, the company shows its respect, trust and recognition of his work.
Companies that want to flourish need to offer fair opportunities to its workers to satisfy their personal and professional needs. By doing so,the company is able to make sure that life at NewAgeSys is best for it's workers.