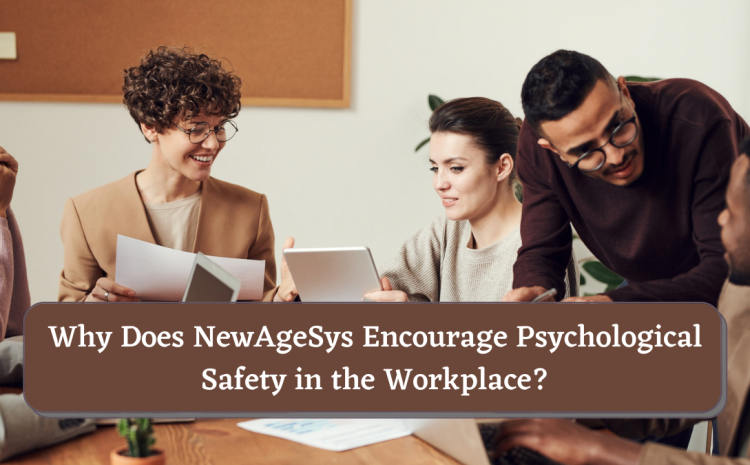 Why Does NewAgeSys Encourage Psychological Safety in the Workplace?
Psychological safety is an essential part of creating a productive work environment. It enables companies to build a workplace that encourages employees to develop innovative solutions.
Encouraging psychological safety can have many benefits, including boosting employee job satisfaction.
Here, we discuss psychological safety in the workplace and how it helped us create a better work environment for our employees and boosted our productivity.
Understanding Psychological Safety In Workplace
Psychological safety is an essential need for every person that helps them build human relationships and connect with others. People need psychological safety to communicate their ideas and concerns effectively and address their mistakes.
As you can imagine, psychological safety in the workplace is critical for all the reasons above. Suppose a person or an employee does not feel psychologically safe. In that case, they will likely refrain from freely expressing their ideas and concerns to their team.
In other words, if a person or team in a company is particularly silent and suppressing their idea, it is a sign that the work culture offers low psychological safety. A workplace that encourages psychological safety also encourages employee participation and teamwork.
It is why we make it a point to ensure the psychological safety of every employee working at NewAgeSys and encourage their participation in every aspect of the business. There are several reasons we encourage psychological safety at the workplace, and the most significant ones are as follows.
High Employee Engagement Rates
One of the reasons why we ensure the psychological safety of the employees working at NewAgeSys is to boost employee engagement rates. A work environment that promotes psychological safety encourages customers to engage actively with their projects and tasks.
Psychological safety at the workplace helps our employees to engage with their work and share our organizational values actively. As a result, our employees are always encouraged to develop new and innovative ideas that streamline our internal workflow and raise our work quality.
Boost Employee Performance
Another reason we ensure our employees' psychological safety at NewAgeSys is to boost their performance. As we encourage psychological safety, our employees feel safe to try out innovative strategies that augment their performance.
Even when trying out a new strategy turns out negative, our employees feel safe to accept the situation and start to work out a solution. It also encourages teamwork within the organization.
Better Diversity And Inclusivity
A company is more likely to succeed if it promotes diversity and inclusivity. Workplace psychological safety plays a critical role in promoting diversity and inclusivity. At NewAgeSys, we ensure that all our employees feel welcome regardless of whatever cultural backgrounds we come from.
A recent study also shows businesses thrive when promoting gender, cultural, and ethnic diversity. It also ensures that we always get the best talent for the job and that our clients get access to the best service we can deliver.
Create Innovative Solutions
Psychological safety encourages our employees to express their thoughts and ideas without hesitation. It helps us collect innovative ideas, analyze their upsides and downsides, and implement the good ones.
Doing so helps us develop creative new ideas that can help us get better results in less time. We use innovative ideas from our employees to streamline our project operations and ensure the desired results for the job.
Boost Job Satisfaction And Retention Rates
Employees feel more valued when they feel safe to voice their thoughts, ideas, and concerns. Whenever we accept an idea or address a situation from one of our employees, everyone understands that the company values their input.
Moreover, it facilitates creative freedom in their roles and tries strategies to benefit the company. Although not all ideas may have the desired effect, it effectively boosts job satisfaction and better retention rates.
Minimize Stree And Anxiety
Stress and anxiety are two of the worst things that can affect the employees of a company. It is hard enough to deal with these problems in their personal lives that they don't need to have the same in their workplace.
By creating a workspace that ensures psychological safety, we encourage our employees to take responsibility for their shortcomings. We believe errors are an opportunity to improve ourselves and promote our employees to do the same.