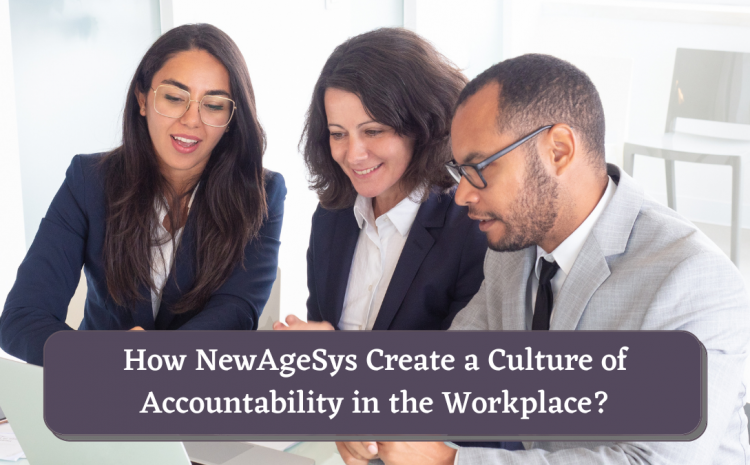 How NewAgeSys Create a Culture of Accountability in the Workplace?
Creating a culture of accountability in the workplace is essential to ensure the feasible growth of a business organization, and it is rarely easy. Below, we explain the steps we take to ensure a culture of accountability at NewAgeSys.
Establishing Accountability As One Of The Core Values
One of the ways we make sure that life at NewAgeSys involves a culture of accountability is by establishing accountability as a core value. By formalizing the need for accountability in the workplace, we were able to show how critical accountability is for the organization as a whole.
Giving an official spin to accountability within the organization conveys the seriousness of the situation. And the best part is that we can share the significance of accountability within the firm with an employee right from day one. We even include accountability assessment as a part of the employee performance review to better encourage responsibility within the organization.
Leading By Example
At NewAgeSys, we ensure that accountability is not something that stays on paper and applies it practically to all our operations. One of the most effective ways we use to encourage accountability in life at NewAgeSys is through our actions.
We make it a point to establish that accountability applies equally to everyone in the organization, including managers, executives, and even the CEO. It means we encourage everyone in the organization to take ownership of their actions.
Higher-level employees owning up to their actions encourages their subordinates to do the same. However, it can be challenging to enable managers and other leadership roles to be forward with their mistakes or shortcomings. We use executive coaching to help with the situation and streamline our internal operations.
Ensuring Clear Ownership Of Projects And Duties
Another way we maintain the quality of life at NewAgeSys is by ensuring clear assigning of the ownership of a project and their duties. We understand that accountability only sometimes comes naturally and the best way to rectify this problem is at the foundation of project management.
NewAgeSys accomplishes this by assigning the owner(s) for each task. It ensures that the project's responsibility and accountability are clear. As a result, our projects take only a minimal amount of time and effort from the team.
Besides that, establishing ownership creates a sense of fulfillment in our employees. It ensures job satisfaction regardless of the nature of the job.
Trickling Down Of Accountability
NewAgeSys believes that every employee should foster a sense of responsibility or accountability for the company to move forward and grow. Hence, we make it a point to ensure that each of our employees has their objectives.
These individual objectives help each employee to contribute to the company's overall efforts while maintaining total ownership of their tasks. It gives employees better control over their actions and performance within the organization and facilitates scope for growth.
Prioritizing The Growth And Development Of The Team
It is essential to promote accountability within a business organization. However, that does not mean that a company should use the opportunity to blame specific employees for their performance. Workplace responsibility aims to identify issues in your internal process and rectify them.
It means we prioritize the growth and development of our employees and do not indulge in the blame game. We cultivate a work environment where our employees do not feel pressured into taking accountability. NewAgeSys ensures that the employees have a chance to correct their mistakes and grow professionally using a friendly approach towards accountability.
Gaining And Giving Trust
Establishing trust and promoting accountability within an organization is a challenging task. Appropriately controlling and delegating tasks can be a more significant challenge than an organization can imagine.
Accountability and trust are two sides of the same coin, and you can't have one without the other. Hence, we at NewAgeSys make it a point to gain employees' trust and return the same trust to them. As a result, they feel more valued and work more efficiently towards a common goal.
At NewAgeSys, we have a system that encourages everyone from top executives to have faith in their subordinates. This mentality is passed down to different tiers of the organization, enabling us to grow stronger as a single unit.