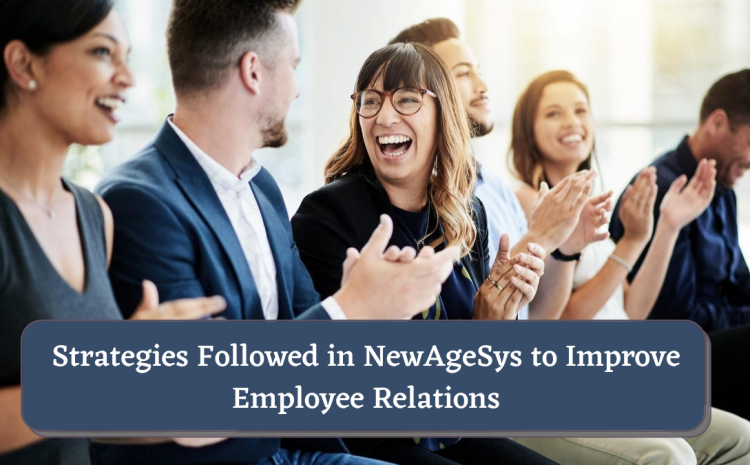 Strategies Followed in NewAgeSys to Improve Employee Relations
Improving employee relations is one of the biggest hurdles for every business organization. Although it is not too easy to accomplish, we have learned how to improve employee relations with a few simple strategies.
Below are some of the most effective strategies we use at NewAgeSys to enhance our organization's overall productivity.
Give Constructive Feedback Even If It's Critical
Unlike some might think, employee evaluation is not merely a means to determine apt incentives. We use employee evaluation to determine how our employees can contribute more to their work and get the desired results.
And to do this, we give regular employee feedback showing how important their role in the company is. Some approaches we use to provide constructive feedback to our employees include the following:
Straightforward and specific feedback explains the situation's "what" and "why."
Using video calls and in-person interactions instead of emails and phone calls.
Understanding the whole situation before providing feedback.
Encouraging our employees to respond.
Respectfully point out any mistakes to the employees.
Use Regular Check-Ins To Enhance Communication
We like to think that our employees working at NewAgeSys are our most important resource. Merely assigning tasks and following them up can hardly help improve employee relations. Using regular check-ins can significantly enhance a company's communication.
It helps us identify our employees' problems at work and discuss them with them to find an amicable solution. One of the best advantages of regular check-ins is that it significantly improves our conflict management process and ensures the job satisfaction of our employees.
Some of the actions that we use to establish better communication at NewAgeSys include the following
Encourage regular face-to-face and video call interactions.
Understand when to switch the communication channel.
Revamp the HR communication strategy by incorporating advanced communication apps.
Occasionally share non-work communications such as memes, videos, infographics, etc.
Look and be approachable to the employees for any problem they have.
Upskill Employees Via Training And Other opportunities
The employees working at NewAgeSys have the opportunity to learn and upskill themselves. We help our employees realize their true potential by providing them with:
Resources
Technical training programs
Webinars and workshops
People skill training
Free access to eLearning apps and resources.
Higher education reimbursements
A few of the most significant advantages of providing such opportunities to our employees are as follows.
Work Culture Promoting Transparency
We always make it a point to maintain transparency of the company's accomplishments and fallbacks with our employees. It creates a work environment where our employees can voice their concerns and develop a solution.
Running a business in an opaque manner can often lead to misunderstandings, unresolved issues, and more. Here are the steps we use and NewAgeSys to ensure a transparent work culture.
Always keep the employees in the loop about company activities.
Organize regular meetings where we share achievements and challenges.
Encourage employees to ask questions.
Encourage Independent Decision Making
Encouraging independent decision-making is an excellent way for any company to improve employee relations. It helps our employees to boost their confidence and develop necessary leadership skills.
It also allows our employees to be creative and try implementing out-of-the-box ideas. Allowing our employees to make decisions, even at the department level, helped us boost employee confidence and empower them to work harder.
Employee Rewards And Recognitions
Of course, nothing helps improve our employee relations better than rewarding them for their hard work. We make it a point to create a work culture that encourages collaboration rather than competition. Some efficient ways we implement to grow our recognition culture are as follows.
Determine the growth factor of the employees.
Performance tracking through the managers.
Encourage a fair and transparent work environment.
Annual or quarterly rewards, including bonuses, incentives, etc.
Conclusion
At NewAgeSys, we realize the value of our employees and their integral role in growing our organization. We use all the above strategies to ensure that our employees are always treated well and their job satisfaction.
Better communication and the proper work environment can do wonders for a business organization. It is why NewAgeSys is not just an ideal adobe for our clients but also our employees.