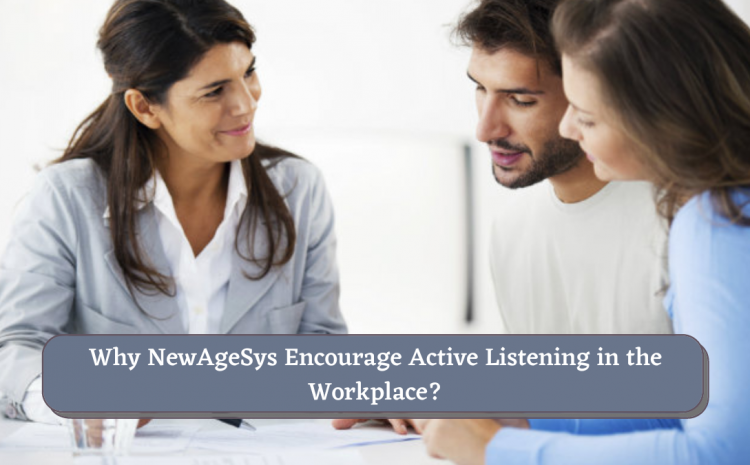 Why NewAgeSys Encourage Active Listening in the Workplace?
Active listening benefits a business organization in many ways. However, the effect of active listening can be easily noticed from three major perspectives of a business, and they are
As an Individual Contributor
As a Manager
As a Leader
As An Individual Contributor
Active listening has significantly improved life at NewAgeSys, and we can see its effects on an individual level. Actively listening to their peers and managers helps our employees serve their roles well and meet their goals more efficiently.
A one on one conversation can go a long way in helping employees understand what they are excepted to do by their managers. Proactive listening leads them to undertake newer roles, optimize their work process, and deliver better results for the company.
Furthermore, active listening also leads to better collaborative efforts with peers. As a result, projects are finished on time and even ahead of schedule. In addition to that, it also affects the overall quality of the project.
As a Manager
Unlike some of you might think, active listening is not just essential for the lower or mid-level employees. It is also vital for managers. Perhaps its significance is even more prominent for managers than for lower or mid-level employees.
One of the noticeable aspects of life at NewAgeSys is active listening on levels of the company, especially when it comes to managerial roles. A good manager knows what is going on within their team, including the tasks and projects.
A manager must keep track of how their team is performing a task if the workload affects the team's quality of work. A well-involved manager will even know what is going on in the personal lives of their team and make better managerial decisions to support their team.
By better understanding their team, the manager can also learn what motivates an individual. As a result, the manager can offer rewards that are tailored for each of their team members and get better results for the business.
As a Leader
Leaders play a crucial role in ensuring that the life at NewAgeSys always remains welcoming of change. And active listening is necessary to ensure that the employees feel heard by the company and its management.
It is easy for leaders to make decisions based solely on their experience and knowledge. However, those decisions may not always have the best impact on the team. Hence, it is crucial to have active listening and find out what each of the team members wants from the organization.
In other words, active listening enables a leader to become successful in their ventures and be empathetic towards their subordinates. Leaders can take in feedback from everyone, including their subordinates, executive peers, and even individual contributors.
With all the feedback or information that leaders collect from the different levels of the company, they can bring in solutions that holistically serve the organization. Furthermore, merely considering everyone's opinions is enough to boost company morale.
Active Listening Techniques For Organizations
There are several ways to ensure active listening within an organization. Below are some of the techniques that helped NewAgeSys ensure active listening within the company.
Stay Present: Avoiding distractions should be a priority for business organizations. One-on-one conversations and personal communication can go a long way in ensuring active listening.
Avoid Interruptions: When having a conversation within the company, make sure there are no interruptions. Everyone should have a chance to speak their mind without getting talked over.
Look For Non-Verbal Cues: Not all communications are verbal. Make it a point to notice any discomfort in the team during your communications and address them effectively.
Empathize: There is nothing more an organization than being empathetic toward its employees. Make sure that the team feels valued and heard by your organization.
Conclusion
Active listening can help business organizations to enhance their performance by influencing employees at all levels. It is essential to holistically involve the team and give them a common goal to work towards. Hence, every organization must ensure that it has an active listing as an integral part. With such communication, a company can move forward and meet all its goals effectively.