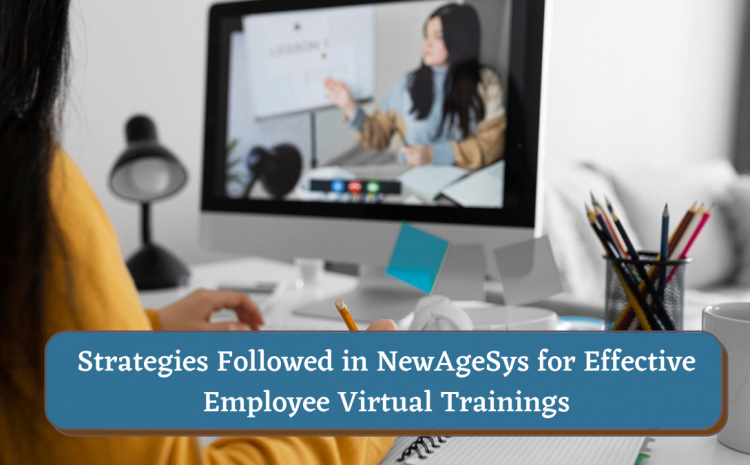 Strategies Followed in NewAgeSys for Effective Employee Virtual Trainings
Workplace training is essential in ensuring the employees and business partners are aligned with the company's goals. Doing so can help a company boost its efficiency and minimize the possibility of errors.
That being said, workplace training was never easy. A lot of effort needs to go into it to get the desired result. Earlier, all workplace training took place in person, and communication was much easier with physical interaction.
However, those days are long gone, and now we depend on virtual training to train our employees. Surely, there are challenges to training your employees, but you can use strategies to overcome these challenges.
Here, we will elaborate on some of the strategies that we took to improve the quality of life for the employees working at NewAgeSys. Follow these simple steps for implementing effective employee virtual training.
Define The Goal of Your Training
Direction is of vital importance when it comes to virtual training for employees. There is no point in creating a training program without first setting a goal for it. At NewAgeSys, we ensure that all virtual training programs for employees working at NewAgeSys have a well-defined goal.
One of the most common goals of training programs is boosting the productivity of the employees. But, your employee training program may have various other purposes. It includes ensuring legal compliance in your operations, teaching the features of a new product, changes in business operations, etc.
Keep in Mind The Needs of The Participants
Training your employees can accomplish many goals, and boosting productivity is just one of them. A properly planned training program also takes into account the needs of its participants. The training programs we create for the employees working at NewAgeSys aim to build confidence in the employees.
Furthermore, you should ensure that the participants know how the training can help them with their workplace responsibility. You should also ensure that the type of training you choose is aligned with your workplace environment. Virtual classes are a lot more convenient, but some might still prefer in-person training, so you might want to try and combine the two.
Define The Parameters of Success
It would be best if you defined the parameter of success for every training program that you introduce. It means letting your employees know what they should gain. Ensure that you have a specific definition guide that iterates how the training program will progress. The guide should also include any assessment measures that you will use to test the objectives of the training.
The learning objectives of your training program can be in different forms, including practical skills and textbook knowledge. Your learning objectives should be specific, easy to access, realistic, relevant, and adhere to a strict timetable.
Material Development
You can develop the instructional materials required for the training via different tools. For example, you can use Office programs for writing outlines and notes for the training program. Similarly, slideshows are perfect for instructor-led classes or interactions. Furthermore, you should work with the leading experts in your field to identify the essential skill set required for your employees.
Training Program Implementation
The implementation of your training program is just as important as the content you prepare for it. You can make use of a learning management system (LMS) that can make coursework easier to assign, deliver, and track.
Apart from this, consider using eLearning tools for better implementation of your virtual training. Third-party services that offer SaaS (Software-as-a-Service) training are ideal for training programs. They are accessible to anyone with decent access to the internet.
Employee Progress Evaluation
The final stage of your virtual training program is the evaluation of your employee's progress. At the end of each training session, you must find ways to improve your interaction and delivery methods. Obtaining feedback from the employees is the best way to do this.
Conclusion
Implementing an effective virtual training course for your employees is not easy. However, with the right strategy and the right tools, you can ensure that you deliver interactive and effective training to your employees. Proper planning and flawless execution can result in better productivity for your workplace.