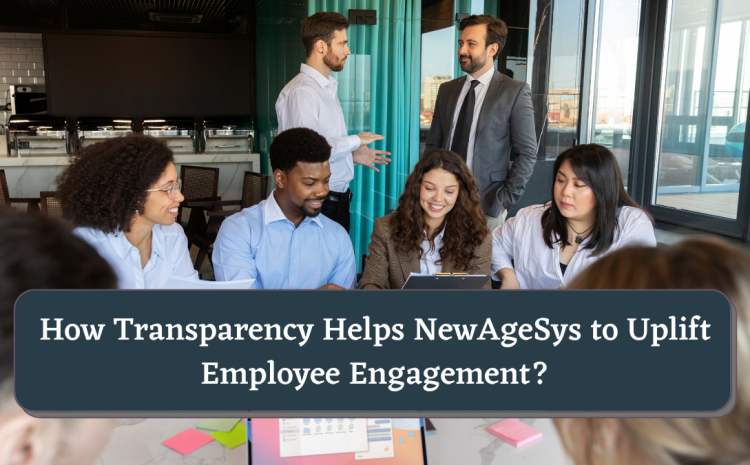 How Transparency Helps NewAgeSys to Uplift Employee Engagement?
Employee engagement is no easy task. It can take ages for a company to master the art of uplifting employee engagement. However, practicing transparency at the workplace can help you immensely uplift employee engagement. Below, we explain how transparency does it for your business organization.
Transparency Leads To Trust
The first thing you need to know about transparency in the workplace is that it is ultimately about establishing trust. It is the key to ensuring employee satisfaction and engagement. By being a transparent company, we would the employees working at NewAgeSys that we trust our team and build faith in the company's leadership.
If something goes wrong with a project, our managers don't always try to cover it up. By being open about their shortcomings and taking ownership of our actions, we encourage our employees to do the same. We ensure that our team can trust each other to get ourselves out of any sticky situation.
Build Stronger Relationships
Another excellent advantage we get by ensuring transparency with the employees working at NewAgeSys is that it helps us build stronger relationships. One of the effects of openness in the workplace is that it creates better communication between our employees and us.
They get a chance to get to know each other personally. It also leads to relationships that are not confined to the walls of the workplace. As a result, new friendships blossom and contribute to developing a healthier work environment. And better communication helps us to trust each other as a team.
Eliminate Unnecessary Rumors
A simple rumor can bring down even big and reputed companies. Adopting a transparent work policy helps us eliminate rumors in a workplace that could potentially harm the company. And even if we encounter a rumor concerning the company and its functions, we make it a point to address it.
That does not mean we jump at every chance to address a rumor when we hear it. Instead, we only address issues that concern the company and its HR policy. Transparency minimizes rumors and negativity that come with it. Furthermore, it teaches them to trust the company and focus on their jobs.
Encourages Ownership Of Work
We have all had that colleague or friend who comes to us for advice on every single action. Lack of transparency at the workplace would lead to every team member turning in to that friend because they don't have access to all the information.
Furthermore, staying engaged in work is significantly more complex when you don't have access to the necessary information. This hinders the normal functioning of the company. Additionally, as the company grows, it becomes increasingly difficult to work efficiently alone. The best approach is to work as a team and become more productive.
By maintaining transparency, we encourage our team to find their answers. As a result, we encourage each employee working at NewAgeSys to make their own decisions without having to check with their managers every time. Hence, transparency efficiently encourages employees to take ownership of their work.
Boost Employee Involvement
Boosting employee engagement is tricky, but transparency makes it a lot easier. As a transparent company, we often discuss the company goals with our employees. We talk about how close or away we are from our goals. We also discuss how we can better achieve our goals and each employee's individual goals.
For example, we make it a point to share our company's five-year plan with the employees and discuss their role in this journey. We realized long ago that employees couldn't contribute to our goal if they were unaware of its existence. The result is the same, perhaps even worse, if the employees don't care about company goals.
Maintaining transparency enables us to share our goals with our employees. We learn how each employee can contribute to the company goal and what they can gain from contributing to the company.
Conclusion
Transparency is an essential part of every successful business organization. At NewAgeSys, we always make it a point to be honest, and straightforward in our interactions with the employees. Hence, we ensure job satisfaction and a healthy work environment for our employees.