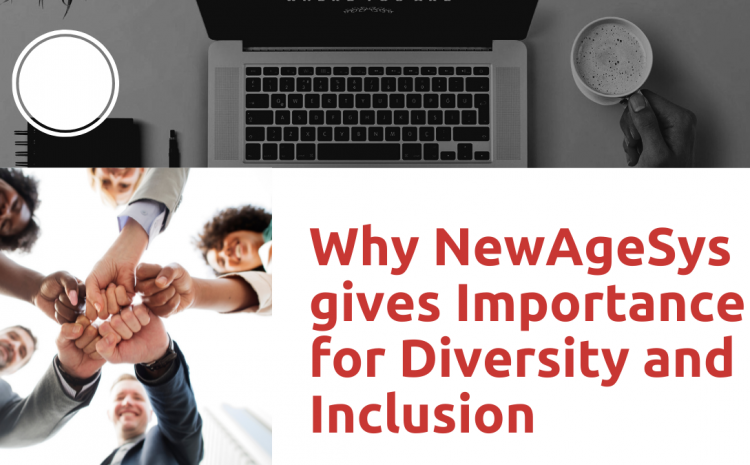 Why NewAgeSys gives Importance for Diversity and Inclusion
Diversity and inclusion, two very important practices and words that have lead to the success of NewAgeSys. Before moving ahead, it is crucial to understand what these two words mean.
What is diversity?
According to Queensborough community college, diversity is defined as 'Understanding that each individual is unique and recognizing our differences. these can be along the dimensions of race, ethnicity, gender, sexual orientation, socio-economic status, age, physical abilities, religious beliefs, political beliefs, or other ideologies.'
What is inclusion?
As defined by communityinclusion.org, Inclusion means that all people, regardless of their abilities, disabilities, or health care needs, have the right to be respected and appreciated as valuable members of their communities.
Therefore at NewAgeSys, we ensure that we practice diversity and inclusion regularly and ensure that all members and employees of our organization no matter where they come from feel equally included and supported in all areas of work. We have practiced this since the establishment of our organization as we realize that making employees feel like a part of the organization at all times keeps them happy and eventually leads to the growth of the company. We keep in mind that clients, employees, and leaders are aware of the importance of diversity and inclusion at our workplace.
There are various other reasons as to why we at NewAgeSys, provide importance to diversity and inclusion at our workplace and they are as follows:
1. Happy employees:
The first reason is without a doubt because feeling accepted and included makes employees happier. And during employee's life at NewAgeSys, we ensure that nothing comes in the way of employee satisfaction. Happy employees can achieve their personal and professional goals throughout their journey and contribute to the success of the company. We ensure that the employees are kept at the center and are made to feel like they are a part of something big.
2. Increases productivity:
It is proved that teamwork and co-working increase productivity. This is because a team always consists of people from diverse backgrounds carrying a set of different skills that are useful for various areas of the business. And so, we at NewAgeSys ensure that while creating teams, we include people from different backgrounds, which makes employees more keen to work together and exchange ideas that will turn into actual plans.
3. A pool of talent to choose from:
During life at NewAgeSys and years of experience in the industry, we have realized that promoting diversity and inclusion at the workplace provides us with a pool of talent to choose from while recruiting. This happens because when people apply for jobs at our company, they know the importance we give to hiring people from different aspects of life, this encourages them to work with us and provides us a bunch of different people with an amazing set of skills to choose from.
4. Reaches out to customers better:
Most of the time, we at NewAgeSys have noticed that a lot of our target audience have a similar background to our employees because we hire people from diverse areas and places. This allows customers to resonate better with our company and allows our employees to promote our company according to customer needs and requirements. This way we not only make our employees feel included, but we also help our customers a part of the inclusion practice in our company.
5. More growth and revenues:
We as a company ensure that employees life at NewAgeSys is as smooth sailing as possible and so when we bring them together, no matter where they come from, employees feel a sense of togetherness and hope and this feeling encourages employees to contribute their maximum to the organization. When each employee contributes their maximum, the organization automatically grows and gets higher revenues and profits in the marketplace.
Lastly, at NewAgeSys we will remain proactive and accept our employees for who they are as they are here with us to achieve certain goals and we would not be who we are without our employees. We as an organization will ensure that we help our employees reach their maximum potential and interact with people from diverse cultures throughout their journey here which will teach them to adapt and grow in any and every field they wish to pursue.