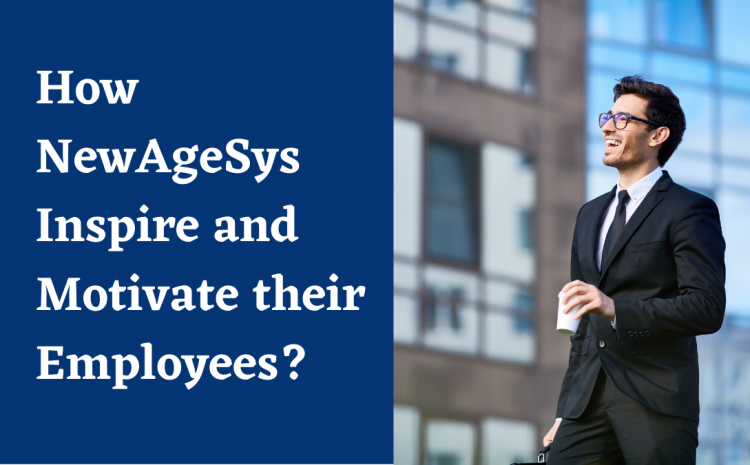 How NewAgeSys Inspire and Motivate their Employees?
A company's success can never solely be based on numbers, and the role your employees play in making your business successful is never to be underestimated. The employees working at NewAgeSys are always inspired and motivated to keep their morale up. We realize that the more motivated each employee working at NewAgeSys is, the more productive they are.
Although it may seem to you that there isn't much you can do to boost your employee's motivation, and it is not really true. We used a number of methods to inspire and motivate the employees working at NewAgeSys, and we managed to get some promising results. In this article, we share some of the techniques that we used at NewAgeSys to inspire and motivate our employees.
1. Introduce a Larger Purpose: As human beings, we crave meaning in everything we do. We want to be part of something larger than ourselves and to make a difference in the world we live in. Therefore, it is only natural that people are motivated by a larger purpose than just working to make ends meet or afford nice things for themselves. It's been observed that employees who are reportedly unsatisfied with their work often react positively when presented with a chance to utilize their time for a cause they believe in. The "human need" to be valued and the satisfaction of their work being viewed as something meaningful from a larger context is undeniable. Therefore, it would help your employees greatly if you can introduce a larger purpose to their work. It doesn't necessarily need to be anything that makes a difference. Even making their work and contributions valid in a larger context can motivate your employees.
2. Training and Mentoring: Another way we motivated our employees is by providing learning opportunities to them. But, before you can actually do this, you need to ensure that your employees have sufficient training and time to complete their current duties. It is quintessential that you support your employees and their efforts to learn a new skill. You need to understand that no employee wants to work a job that does not give them any prospect for advancement. Your employees would naturally want to harness new skills so that they can move forward in their careers and look for better opportunities.
3. Promote Employee Wellness: The physical and emotional well-being of your employees must always be taken into consideration. At NewAgeSys, we always make it a point to ensure that our employees are given room to breathe. It goes without saying that it is essential that you don't treat your employees like machines. Always be empathetic towards their needs.
It is simply not possible for a person to pour their best effort into work if they are suffering physically or mentally. One way of helping your employees is to provide them with flexible working hours when they need it apart from the typical yoga classes or gym membership.
4. Recognition and Rewards: One sure-shot way of motivating your employees that have been around for ages now is by offering them recognition and rewards. Recognition is said to have the most impact on employee engagement, and it only makes sense because who doesn't want to be recognized for their work? Employees crave recognition. In fact, 82% of employees wish they receive more credit for their work. Apart from recognizing and appreciating your employees' work, it is also desirable to reward the especially hard-working employees to motivate them to do better.
5. Pleasing Environment: Companies often make the mistake of not giving much attention to their workplace. Many workplaces often have a bleak atmosphere for the sake of appearing professional. What companies fail to realize is that even the environment their employees work in has an effect on their productivity.
Making the work environment aesthetic is also a reflection of how much you care about your employees. Even a broken computer or a chair could affect the motivation of the employees. Therefore it is necessary that you give attention to their working environment and make it as pleasing as possible for your employees.