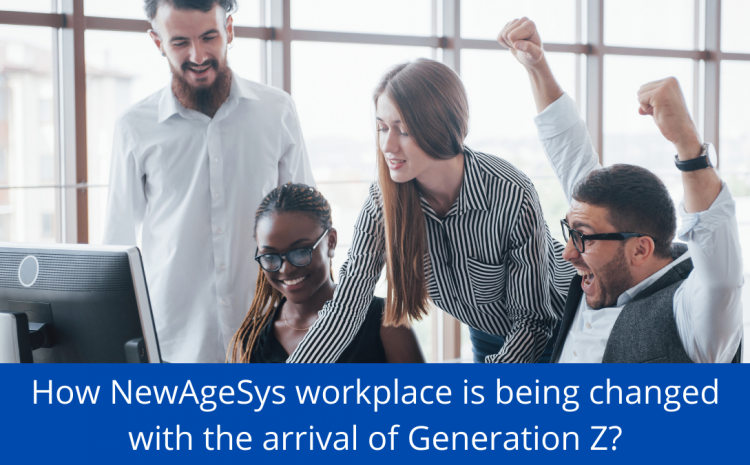 HOW NEWAGESYS WORKPLACE IS BEING CHANGED WITH THE ARRIVAL OF GENERATION Z
Change is the only constant is a statement that stands true in every single workplace and for a while now at NewAgeSys, the arrival of Generation Z (According to training mag, Gen Z, or Generation Z, is made up of people born between 1995 and 2012) employees has been the biggest change.
Generation Z bought in a different set of ideas, norms, and innovations into NewAgeSys along with them and has helped our company grow and achieve our goals effectively. At NewAgeSys we immediately realized that our Gen-Z employees are much more independent and competitive as compared to the employees that belong to other generations and worked towards keeping them motivated at all times so that they can contribute their maximum for the company as a whole.
Generation-Z changed the style of working at NewAgeSys and focused on efficiency, apart from these multiple changes took place at the workplace with their arrival.
Therefore, here are a few ways in which the NewAgeSys workplace changed with the arrival of Generation-Z:
Increased need for work-life balance: While working at NewAgeSys, Generation-Z portrayed an increased need for work-life harmony, and we as a company helped them achieve this in order to retain them for a long period of time. We realized that this balance is critical so that employees stay motivated and do not burnout. We ensured to constantly observe our Generation-Z and other employee's performance levels, provided training, and created a structured flexitime that allowed employees to focus on both their professional and personal goals.
Inculcation of technology and automation: One of the main ways in which the workplace at NewAgeSys changed with the arrival of Generation-Z is in the amount of technology that was used. Generation-Z employees required up-to-date technology and automation processes to ensure maximum output. This encouraged us as a company to invest in more efficient softwares and technologies and inculcate this in our day-to-day tasks. We noticed that by doing so the Generation-Z employees were more productive and effective while working at NewAgeSys. This practice of a technology-driven workplace is now carried out throughout the workplace.
Constant recognition and credit: NewAgeSys has always focused on employee recognition programs to ensure employee motivation and performance but with the arrival of Generation-Z, these recognition programs became more frequent due to their need to be appreciated from time-time for the work that they do at NewAgeSys. We realized that this was crucial to increase employee retention and keep employees happy while working at NewAgeSys. We curated certain strategies that point out our 'star performers' on a weekly basis. This strategy is implemented by each team leader/manager regularly so that employees feel belonged and recognized for their hard work.
Environment-friendly workplace: Along with amenities, inculcation of technology, and work-life balance, at NewAgeSys, generation-Z promoted the need for a sustainable and environmentally friendly workplace. This encouraged us at NewAgeSys to create environmentally aware workplace designs and contribute to the development of a better sustainable environment at work. We promoted the use of recyclable goods and reduced the overall use of paper in our organization. This also allowed us to build our corporate social responsibility and brand value, brand recognition, etc. in the eyes of our customers.
Importance of diversity: With the arrival of Generation-Z, NewAgeSys realized the importance of diversity and inculcation of people with different skills and backgrounds in a team. This is because Generation-Z believes it is crucial to work with people from different cultures and backgrounds in order to grow as a team and grow individual skills. This amalgamation of cultures and encouraging diversity builds employee's ability to adapt, enhances innovation, and also caters to the needs of Generation-Z which keeps them happy while working at NewAgeSys.
In conclusion, we can understand that the arrival of Generation-Z employees has only led to the enhancement of our workplace and we at NewAgeSys will continue to develop our strategies and systems to constantly adapt to the ever-changing employee needs. We have also realized that catering to the needs of our Generation-Z employees is what will keep them motivated and will eventually lead to the growth of our company as a whole.