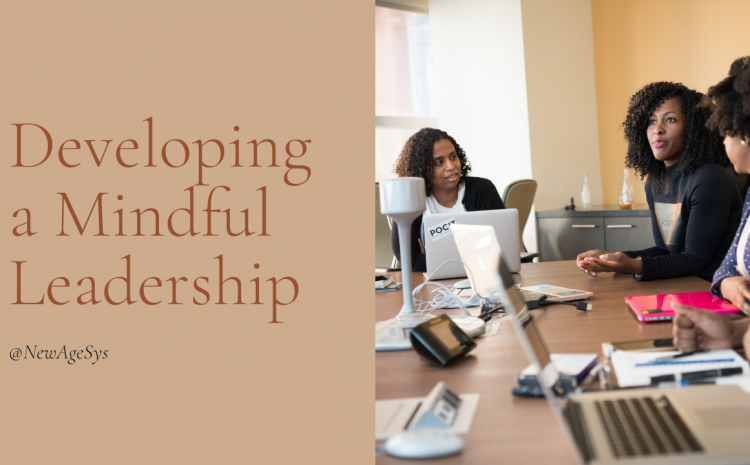 Developing a Mindful Leadership at NewAgeSys
Many things determine a company's success, and developing mindful leadership is one of the most crucial among them. It is not easy to be mindful at a workplace, and many have struggled at it. One of the reasons for this might be that the individuals at a workplace can be of different backgrounds and cultures, and there is always a challenge to make them work together as one.
This is even more challenging today as we are no longer working in close quarters with each other and with almost zero face to face communication thanks to the pandemic. However, this did not make us working at NewAgeSys to just accept it and make do with what we have. If being an innovator in our field of work has taught us anything, there is always a solution if you only look hard enough.
Working at NewAgeSys, we have always made use of the latest tech in everything we do, from our documentation to app development. We decided to do the same to accomplish mindful leadership. In this article, we talk about how the employees working at NewAgeSys developed mindful leadership and made productivity a priority even during these hard times.
Empathetic Approach
Being empathetic is a key to achieving mindful leadership at your workplace. It allows you to understand your colleagues and put yourself in their shoes to come up with the right solution. It is important to understand what your colleagues may be going through in their personal and professional lives and, most importantly, to understand them without being intrusive on their personal space.
Being compassionate to your fellow workers can encourage and motivate them to make their lives better and have clarity on the things that need to be done. Make it a point to reach out to those of your co-workers who live on their own or have been through a rough patch. Talking to you, even about trivial things, can put their mind at ease and help them relax. Furthermore, you must understand that days of fear-based leadership are long gone. With an empathetic approach, you not only establish loyalty but even encourage creativity from your employees.
Appreciation Approach
Everyone wants to be appreciated for what they bring to the table, and it is true no matter what industry you look at. It would be best if you didn't generalize your appreciation for all the hard work your employees do. They deserve and prefer a more personalized acknowledgment for their work. If you can accomplish that, you will notice how that can affect your fellow workers positively instead of a cold shrug that you may get with a more generalized approach.
There is no bigger discouragement for an employee of your company than not being appreciated for all the hard work and time they pour into a project. If you fail to let them know that their work is appreciated and emphasize their importance in the project's success, then it is more than likely that they won't perform as well as they did on the first project. The appreciation they receive for their work is what helps your employees to come up with inspiring ideas and innovative thinking.
Effective Communication
One of the most significant aspects that you need to focus your attention and energy on developing mindful leadership at your workplace is effective communication. Effective communication doesn't just mean communicating with clarity but with compassion, and you must keep this in mind no matter what the medium of communication is, let it be an email, a virtual meeting, or even a text message.
When communicating with your employees, always keep a few things in mind, like are you truthful, will the message benefit your situation? How can you communicate effectively to ensure a positive outcome? These are just some of the basic etiquette you can follow to ensure effective communication and adapt the best way of communication depending on the individual you are talking to. Clear communication means fewer errors and faster delivery.