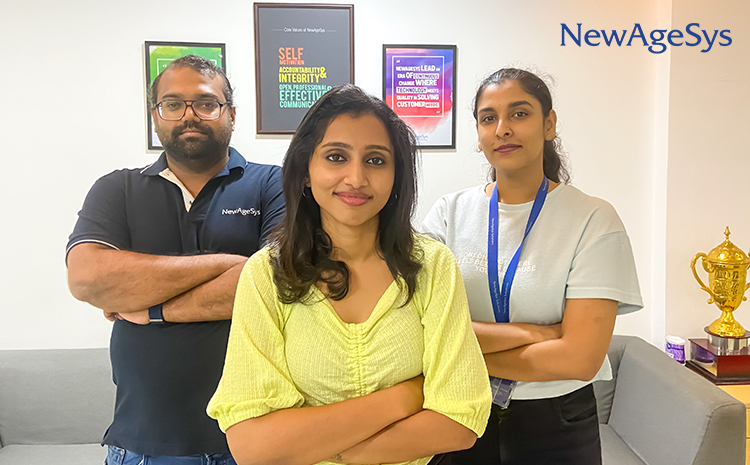 SUCCESS STORIES: SOME HAPPY FACES
NewAgeSys is the place where you feel like a home. That's what our employees say. Our unique company culture is a set of collaboration, recognition, empowerment, enthusiasm, fun, and continuous learning.
We support an engaging work environment where we conduct monthly gatherings, recognition and awards, fun club activities, and company tours. It attracts top talents like you and nurtures employee growth, satisfaction, and success.
We value our employees and give them a better work world. This blog serves as a testament to our success. These are their words, the words that hold truth.
Let's explore!
I've been working at NewAgeSys for the past 4.5 years, and I loved every minute of it. The atmosphere is ecstatic, and I've had the pleasure of working with some great managers and management. I'm so grateful to be a part of the NewAgeSys team!
Here are some specific things I love about NewAgeSys:
Everyone is friendly and helpful, and it feels like a family here.
The great managers and management
They are always supportive and encouraging, and they care about the success of their employees.
The opportunities for learning and growth
There are always opportunities to learn new things and take on new challenges, which keeps me engaged and motivated.
The feeling of making a difference.
I feel like my work here is making a real difference in the world, which is very rewarding.
I would highly recommend NewAgeSys to anyone looking for a great place to work. It's a company with a bright future, and I'm excited to be a part of it.
If you're looking for a place to work where you can be happy, challenged, and make a difference, I encourage you to check out NewAgeSys. You won't be disappointed!
-Zaman Khan-
Placed right after my post-graduation and now nearing into my 1st year, I find NewAgeSys to be an extremely competitive and growth-oriented opportunity in my professional career, exposing myself to the corporate world, and I find it very rewarding as a career start. 
Two things stand out when I look at a company as a whole: people and the kind of work. NewAgeSys has been spot on in both these ideologies.
The employees here are super reachable across the hierarchy and help develop a sense of togetherness, not to mention, the work culture here at NewAgeSys follows a collaborative style where we follow the – "I grow", "you grow," and "we grow" policy along with a strong competition to keep the fire blazing.
So far, so good. NewAgeSys has promisingly been a perfect kick-start to my industrial exposure, and I'm hoping for better days ahead with NewAgeSys!
-Arya Nair-
Over the past two years, I have been part of an exceptional firm NewAgeSys, that has provided me with personal and professional growth. The work culture is unique, fostering camaraderie, collaboration, and support.
The open-door policy fosters transparent communication and genuinely cares about our opinions and well-being. My manager has provided guidance, encouragement, and constructive feedback, helping me overcome challenges and evolve as a professional.
The firm's leadership leads by example, inspiring me to be a better version of myself. The firm also understands the importance of family and personal time, going above and beyond to accommodate employees' needs. Team-building activities at the firm are a blast, promoting teamwork and fostering a positive work culture.
Overall, my journey with this firm has been extraordinary, thanks to the opportunities for growth, the inspiring work culture, and the support from colleagues and leadership.
-Diya Raj-
YOUR SUCCESS IS OUR IDENTITY
These words make us happy. We build connections through our identity. Our identity is our employee success. At Newagesys, we love being adorable in every step we take. Explore our magic of celebrations, fun and happy moments on social media.