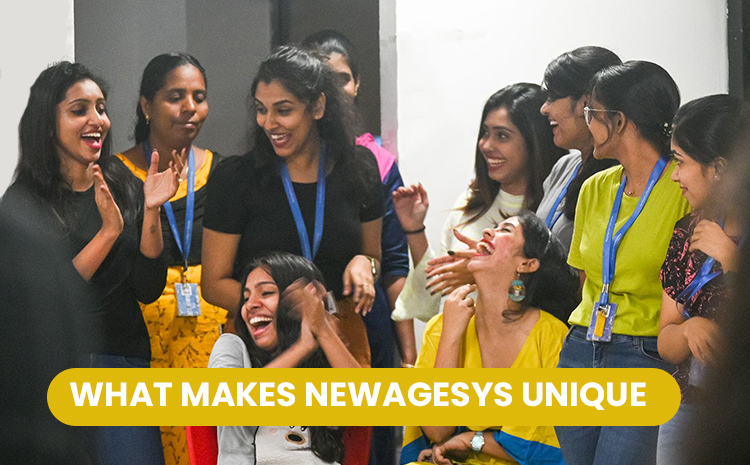 Company Culture: What Makes Newagesys Unique
In today's competitive business world, company culture has a role in attracting and retaining top talent. Newagesys, a thriving organization known for its exceptional work environment, sets itself apart through its unique and vibrant company culture. This blog post explores the key elements that make Newagesys stand out in the corporate landscape.
Monthly Gatherings: Fostering Collaboration and Camaraderie
At Newagesys, fostering community and teamwork is a top priority. The company organizes monthly gatherings where employees from different departments socialize, share ideas, and build relationships. These gatherings are opportunities to interact with colleagues they may not regularly engage with, encouraging collaboration and fostering a positive work atmosphere. As a big family, our employees possess different talents, and we encourage them to embrace them. We host programs, games, and entertaining activities with a yummy dinner.
Recognition and Awards for Top Performers: Celebrating Excellence
Newagesys recognizes the importance of acknowledging and appreciating exceptional performance. The company holds quarterly recognition and award ceremonies for top performers to motivate employees and highlight their achievements. This recognition boosts employee morale and fosters healthy competition and a drive for excellence in the workforce.
No Hierarchy Divisions: A Flat Organizational Structure
At Newagesys, we equalize everything. Newagesys has embraced a non-hierarchical organizational structure to promote open communication and innovation. Employees are encouraged to voice their opinions and ideas freely, irrespective of their position within the company. We welcome open conversation, interaction, and effective communication within the team. It is just because we believe that every employee deserves equal respect. This flat structure cultivates an environment where everyone's contributions are valued, and innovation thrives.
Vibrant Enthusiasts: Nurturing Passionate Individuals
Newagesys is known for attracting and nurturing a community of vibrant enthusiasts. The company actively seeks out individuals who are passionate about their work and fosters an environment that encourages creativity and enthusiasm. Our employees love making innovative things, building ideas, and contributing to the growth and development of the company. This passionate workforce drives the company's success and fuels its vibrant culture.
Fun Club: Balancing Work and Fun
The most exciting thing about working here is having a fun club where we embrace fun at work. Recognizing the importance of work-life balance, Newagesys has established a fun club dedicated to organizing recreational activities for employees. From sports tournaments and movie nights to team-building exercises and hobby groups, the fun club ensures employees relax, unwind, and bond with their colleagues outside work hours. The most hooking thing about the fun club is that we organize it weekly by evoking the young enthusiasts with DJ music and dance. This emphasis on work-life balance contributes to higher employee satisfaction and engagement.
Company Tours: Inspiring Experiences and Learning Opportunities
Newagesys believes in expanding horizons and providing enriching experiences to its employees. Tours are organized frequently within the teams, where employees spend quality time together with fun. Regular company tours expose employees to different industries, business practices, and cultures. These tours offer a break from routine, and they enjoy the moment joyfully.
A Better Home To Embrace Your Vibrant Talents
At Newagesys, we value employees and their interests. Newagesys' unique company culture is collaboration, recognition, empowerment, enthusiasm, fun, and continuous learning. Through its monthly gatherings, recognition and awards, passionate workforce, fun club activities, and company tours, Newagesys fosters a supportive and engaging work environment. This unique culture attracts top talent and nurtures employee growth, satisfaction, and success. Explore our magic of celebrations, fun and happy moments on social media.