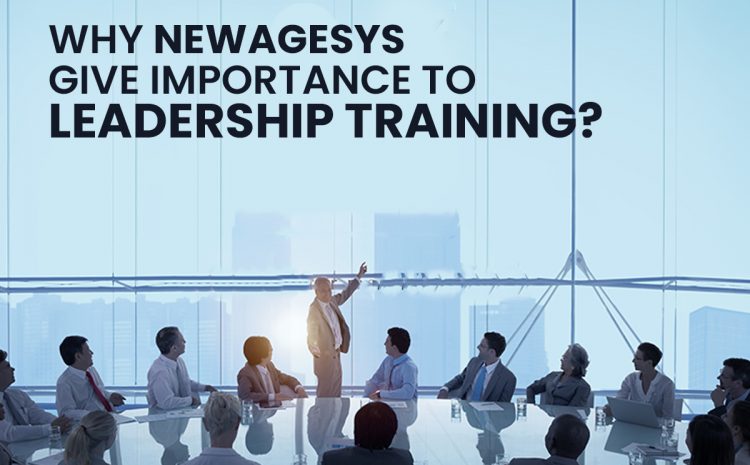 Why NewAgeSys give Importance to Leadership Training?
Many companies suffer because they can't find apt leaders for their business. But the good news is that you can cultivate leadership qualities in people with the proper training. Here is how we at NewAgeSys use leadership training to improve our business operations and elevate the standard of our services.
Improves Employee Retention
One of the significant benefits of prioritizing leadership training at NewAgeSys is to ensure a high employee retention rate. A business organization can only succeed with dependable employees. Most people stay with their employer when they have an inspirational figure leading them. The employees value their engagement with the leaders and view it as a learning experience.
Most organizations with a high employee turnover rate need to engage with their employees more strongly. As a result, an employee remains an individual and cannot work as a single unit. Leadership training allows the employees working at NewAgeSys to be strong leaders and support the lower-level employees.
It also allows our managers and team leaders to connect better with their team members and understand their pain points. We then focus on these pain points and address them efficiently. By addressing the pain points of our employees, we make sure our employees feel heard and valued by the organization.
Overcome Challenging Situations
Leadership training also helps us overcome many challenging situations. It is common for a company to go through some complicated phases now and then. For example, leadership training helps us get through difficult situations, such as when short-staffed during busy times like the holiday season.
Overcoming even the most simple problems without a decisive leadership role becomes significantly more challenging. Practical leadership training helps employees working at NewAgeSys to delegate responsibilities and overcome any situation as a team.
Moreover, it prepares our managers and team leaders to face adversities head-on and find a feasible solution to their problems. When faced with a challenging situation, we can assess the issue and devise a solution that meets all the requirements.
Enhance The Presence Of Mind
One of the challenges business organizations face is ensuring that their employees bring their best version to work. We use leadership training to ensure our employees get the most value from their work. To ensure this, we use leadership training to hone the skills of our employees and help them master the presence of the mind in the workplace.
Advanced leadership training helps our employees to shine in areas like emotional regulation and improves the quality of interaction within our organization. Moreover, the training also helps the employees in their personal lives. Another benefit of such activity is that they can navigate conflicts inside and outside the workplace.
We also ensure the leadership training program helps our employees to handle situations with patience and empathy. It ultimately helps our employees in leadership roles to develop creative problem-solving skills and tackle every problem head-on.
Improve Overall Productivity
Another significant benefit of prioritizing leadership training is enhancing our overall productivity. A big part of being an excellent leader is ensuring everyone under the leadership is performing their tasks well. Our managers and team leaders ensure that every team member is comfortable and knows their duties and roles.
As a result, employees working at NewAgeSys have a well-defined set of duties they fulfil without delay. It ensures that everyone methodically does their work, so there is work overload. It effectively results in better job satisfaction and productivity for our employees. Ultimately, this results in the work that we do and ensures its quality at all times.
Boost Employee Confidence
A good leader needs to lead their team on the path to success. If the leader lacks this quality, the subordinates may have feelings of self-doubt and can ultimately lower their self-esteem. Providing apt leadership training to our senior employees allows them to lead their associates better.
Leadership training allows our top-level employees to gain the confidence they need to guide their subordinates. The team members feel safe when they feel their leader is reliable and open to discussing any roadblocks they encounter in a project. It allows us to deliver projects with minimal or no delays.