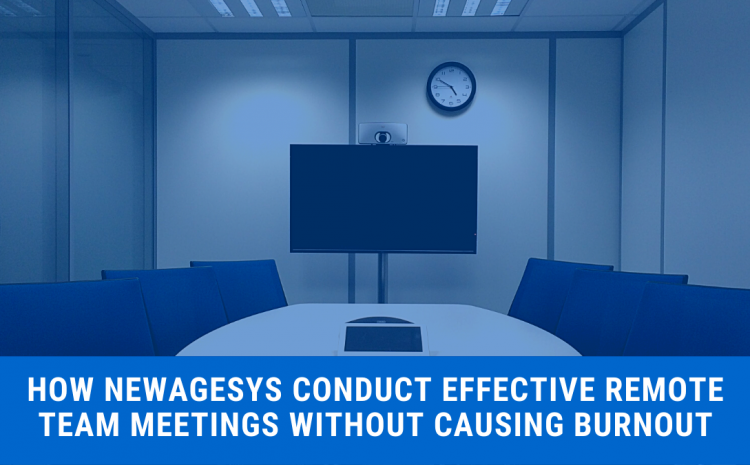 How NewAgeSys Conduct Effective Remote Team Meetings without Causing Burnout
Conducting remote team meetings through virtual platforms such as Zoom, Microsoft teams have become the new norm during this pandemic. Companies had switched to online mode during the beginning of the pandemic and after a lot of trial and error have understood how to conduct these meetings efficiently.
After creating a system to conduct these kinds of remote meetings, companies were faced with new challenges during virtual sessions, and one of these challenges was known as employee 'burnout'. According to very well mind, 'Burnout is a reaction to prolonged or chronic job stress.'
And so, just like every other organization, NewAgeSys also faced this challenge while working with their employees online. NewAgeSys being an organization with years of experience in the industry aims towards making our employees as productive as possible keeping in mind every kind of situation. Therefore, after quite a bit of research and studying, we created a strategy to help employees contribute their maximum to the organization.
Here are a few ways through which we conducted effective team meetings without causing burnout while working at NewAgeSys:
Planning the day: One of the main things that our team leaders and managers did while conducting remote team meetings online at NewAgeSys is planning the tasks for the day and circulating this schedule amongst their team members. This proved to be extremely beneficial because employees had an exact idea of the amount of work to be completed, the time allotted for breaks during the day, etc. This schedule motivated the employees to be as productive as possible throughout the day and also be prepared for their work each day.
Ensuring employee participation: Another thing we ensure while working at NewAgeSys is employee participation. Employee participation was given priority even during remote team meetings online to avoid burnout. Our team leaders encourage every employee present to participate in the meeting and share their ideas and suggestions without any hesitation. We also conduct team icebreaker sessions from time-time so that employees become comfortable and get to know each other better. Ensuring participation proved to be effective in reducing burnout as employees feel involved in the overall meeting and decision-making process.
Rules and Regulations: While working at NewAgeSys, our rules and regulations are given utmost importance to. These etiquettes lay the groundwork for the overall working of the organization. Therefore, even during online remote meetings employees are reminded of their work etiquette and are informed to treat the online space as a real workplace. These rules and regulations are simple and basic that every employee must follow daily, we have noticed that this instills a sense of professionalism in each individual. These rules and 'nice to haves' ensures that there is a proper flow during the meeting and employees put their best foot forward.
Reviewing daily progress: At NewAgeSys keeping track of day-day progress is crucial. Therefore, team members and managers were encouraged to do the same during remote team meetings via online platforms. Tracking day-day progress will help employees understand how well they have performed their tasks and also understand their areas of improvement. This daily tracker keeps employees and the team extremely driven and avoids burnout. While working at NewAgeSys we ensure that employee personal goals and progress are also kept in mind.
Focusing on work-life balance: Another strategy that has been implemented while working at NewAgeSys and conducting remote meetings online is helping employees establish boundaries and focus on finding a work-life balance. We have noticed that our employees found it difficult while working from home to balance their personal and professional life and therefore, we set strict work hours and timelines for the teams and their managers so that the rest of the day they are able to spend with their families etc. This strategy boosted the employee's emotional quotient and made the employees contribute better to the organization without facing burnout.
In conclusion, we at NewAgeSys understood that the shift from offline to online working was quite a challenge. But, at the same time we ensured that we provide all the support to the employees from our end to make this shift as smooth and hassle-free as possible because at the end of the day we believe that our employees well being is what will help our organization prosper.