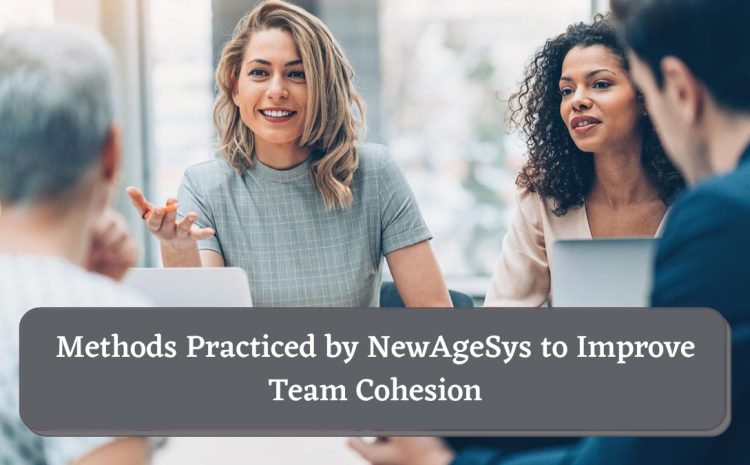 Methods Practiced by NewAgeSys to Improve Team Cohesion
At NewAgeSys, we know the effect of team cohesion and how it is vital in improving the quality of work. We adopt several practices that help us to improve team cohesion and work together as an integral unit towards a common goal. Below, we discuss some methods we practice for improving team cohesion.
Matching The Right Personnel And Job Role
One of the most effective methods that improve life at NewAgeSys for our employees is by providing them with the right job. And we are not just talking about the employee's qualifications for the position. The right job for a person gives them job satisfaction while matching their skills and competencies.
We accomplish this by aligning our employees' strengths and weaknesses to find a job that is a perfect fit for them. Doing so can keep up our employees' enthusiasm and enhance their job satisfaction.
Forming The Right Team
By forming the right team that can work together seamlessly, we ensure life at NewAgeSys always deliver positive results for our employees and clients. We start by defining the goals and objectives of the team to help everyone understand the overall dynamics and role of each team member in each project.
The most crucial part of forming an effective team is identifying who can contribute to individual projects and bring the best results. Hence, we make it a point to create a team that is well-balanced in terms of skills and competencies. It helps us maintain cohesion between the group and improve the company's overall performance.
Investing In Team-Building Activities
Creating a strong bond between team members is essential in enhancing the overall productivity of a team. We always make it a point to invest in team-building activities. The team-building activities enable us to build positive work relationships and improve life at NewAgeSys.
The key to successful team-building activities is understanding which activities can benefit the team and how. We make sure that every team-building activity that we implement is both engaging and entertaining to our employees. But that's not all. We also ensure that every single action can in some way benefit our employees and grow as an individual but also as a team. As a result, we can ensure that we as a company are moving in the right direction.
Improving Team Communication
Efficient communication within the team is essential for the success of any group. At NewAgeSys, we understand this all too well. Without proper communication, a team can't function properly or hope to reach its full potential.
Improper communications can lead to unnecessary confusion, which can negatively impact the project, and the company itself could suffer the consequences. Hence, we try to bridge the communication gap between team members, managers, team leaders, etc., to ensure proper interpersonal communication.
Here are some steps we take to improve team communication and cohesion within NewAgeSys.
Open-door communication policy within the organization.
Using several automated communication tools.
Getting open feedback from the employees.
Focusing on inclusion and diversity in the workplace.
Celebrating Success
Another significant way we ensure team cohesion is by not missing an opportunity to celebrate the success of our teams. We make it a point to celebrate our small victories because it makes our employees feel valued and appreciated. We also make it a point to create a work environment where our employees are not afraid to experiment with out-of-the-box ideas.
At NewAgeSys, we recognize our employees' effort and desire to make a difference, even if they are not always successful. A team can not progress without some trials and errors. The point is to learn from the mistakes, move forward, and not get stuck in the same place.
Conclusion
Improving team cohesion is not always an easy task for a business organization. But, as long as you are ready to put in the effort and work together with your teammates, you can yield positive results.
At NewAgeSys, we understand the importance of a team and the role of each individual in the group. As a result, we can continuously improve regardless of the setbacks or challenges we face.