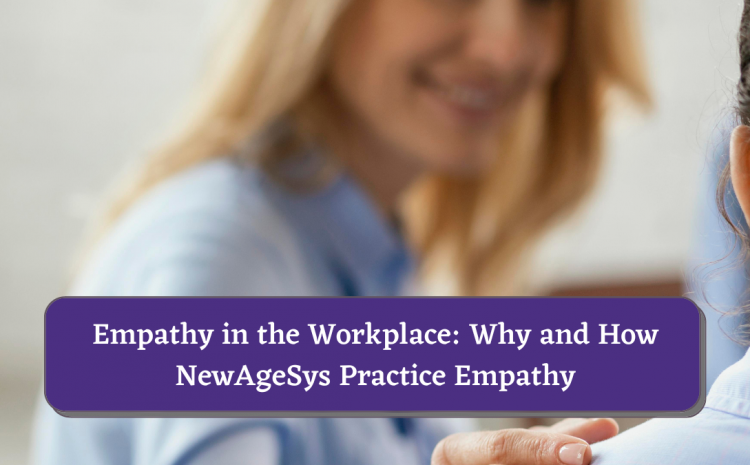 Empathy in the Workplace: Why and How NewAgeSys Practice Empathy?
Empathy within a business organization is crucial for its sustainable growth. Below, we explain why we practice compassion in the workplace and how it has helped us become a more robust organization.
Why We Practice Empathy At NewAgeSys
There are numerous reasons why we make it a point to practice empathy at NewAgeSys. Empathy makes life at NewAgeSys a stress-free work environment where we work together as a team solving every problem that comes our way. But that's just one of the many things empathy does for a work environment like ours. Empathy at the workplace offers the following advantages.
Enrich Communication
Practicing empathy allows you to understand and identify your employees' tone and body language. As a result, you can better read and communicate with people within the organization while keeping their moods in mind.
Build Stronger Relationships
Another reason life at NewAgeSys focuses on empathy is that it helps us form stronger relationships with our employees. Stronger professional relationships lead to a more harmonic work environment, ultimately improving productivity.
Adopt Creative Approaches
Empathy is about putting yourself in someone else's shoes and understanding their pain points. And when you can truly understand what the other person is feeling, it helps you creatively solve their pain points. Hence, you can develop innovative methods to boost employee performance.
Boost Investment Opportunities
Empathy also helps you better understand your customers, stakeholders, and potential investors. Hence, practicing empathy not only makes life at NewAgeSys more welcoming and helps us better connect with our investors.
Hire The Right Candidates
Another advantage of practicing empathy that many fail to notice or acknowledge is hunting for the right talent. Showing empathy towards aspiring applicants relaxes them and chills them out. It enables us to analyze the applicant for a specific job better.
How NewAgeSys Ensures Empathy At Workplace
Although a simple concept, it is not easy to nurture empathy in the workplace. Here is how we manage to ensure empathy within our organization.
Lookout For Burnout Signs
The one thing we don't want our employees to feel is the feeling of burnout. Surprisingly, it is so normalized to feel burned out in an individual's work life, and perhaps getting rid of it once and for all is not entirely possible. However, that does not mean you can not minimize the risk of burnout.
Empathy helps us understand when one of our employees is facing a problem in life and act accordingly with them. We try to ensure the mental well-being of our employees by organizing mental health seminars and other psychological health services.
Acknowledge Your Teammates
Business organizations must acknowledge the skill and achievements of their employees. It will help you assign satisfying projects to your employees and raise productivity and overall quality of work by doing it.
For instance, let's say that one of your developers has a particular knack for designing attractive marketing ads. In that case, you can assign employees to such projects and even cultivate their talents by offering them relevant training courses.
Show Compassion
No one has any complaints about anyone who is compassionate, and it is an integral attribute of empathy. Hence, by showing compassion to our employees, we can cultivate real and meaningful friendships within the organization. We ensure that our leaders always look out for their subordinates and their well-being.
Conduct Seminars/Webinars On Empathy
The concept of empathy may be simple, but it is still a complex emotion. And even if the top brass has a good grasp on empathy, your colleagues and employees may not. Hence, we make it a point to conduct seminars/webinars that teach about the importance of empathy and how they can help each other through empathy.
Empathetic Leadership
When it comes to empathy, we lead by example. It is not enough that we preach about compassion and not implement the same. Hence, we ensure that the higher-grade employees and management are empathetic towards everyone within the organization regardless of their position.
Conclusion
As an organization, NewAgeSys has benefited a lot from practicing empathy. It ensures that our employees enjoy a stress-free work environment boosting their productivity and ensuring the quality of work.