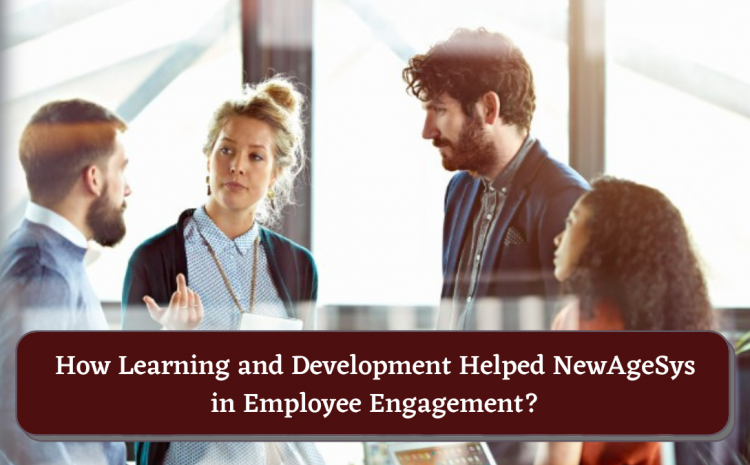 How Learning and Development Helped NewAgeSys in Employee Engagement?
At NewAgeSys, we always make it a point to provide our employees with promising learning and development opportunities. They help our employees learn new skills and significantly boost employee engagement.
Below, we discuss some of the learning and development strategies we used to boost employee engagement. Let's get started straight away.
Training
Quality training is an integral part of everything we do at NewAgeSys. We ensure that the employees working at NewAgeSys are equipped with the required skillset by providing them with quality training.
With proper training, we make sure that our team is always ready to serve the clients regardless of how complex their requirements are. Furthermore, the skillsets our employees gain through the training we provide also benefit them in their future endeavors.
Mentoring
Another learning and development opportunity enjoyed by the employees working at NewAgeSys is personal mentoring. At NewAgeSys, our senior and expert members mentor our young and vibrant employees in every way they can.
As a result, our employees can learn from real-life situations and apply their newfound wisdom to their work. Proper mentoring improves the quality of work and leads to job satisfaction.
Workshops/Working Groups
The learning and development opportunities in NewAgeSys also include workshops or working groups. As you can guess, these workshops bring together our employees and encourage interaction between them.
It provides a more reined access for our employees to each other revealing their knowledge and skills. Hence, it also provides a chance to learn each other's professional specialties and work better on projects.
Conferences
Conferences are another great way to boost employee engagement. It allows our employees to sharpen their skills and expose them to the outside world. It is not just about encouraging our employees to learn more about the industry but also about showing their expertise to outsiders.
Conferences usually have specific sessions that help the attendees increase their awareness and train themselves on new and relevant subjects. And the best thing is that there are so many options available at a conference that the employees can choose a class or demo that can best help them grow.
Job Rotation
Job rotation is implemented in an organization that involves rotating the tasks/roles within a team. It is one of the best employee engagement strategies you can implement, presenting a learning and development opportunity for the employees.
One of the primary goals of job rotation is to help our employees learn something new and apply it to their professional life. It significantly reduces the monotony of work and helps us find the right employee-job fit for the better functioning of the organization.
Simulations
Simulation involves constructing and playing out role-playing activities. At NewAgeSys, this activity includes enacting scenarios that we often see in real-life. By letting the employee act out the situation, you can prepare them to handle escalations and emergencies.
But, more importantly, it provides you with an interactive employee engagement strategy. As the whole company can take part in such simulations, you can also ensure maximum participation for simulations.
On-The-Job Training
There is a reason why on-the-job training has been around for a long time. It has remained popular despite all the changes in the working environment. It remains one of the most efficient ways to train a new employee with minimum investment.
It only takes a short training session to familiarize the new employee with the company's system, and on-the-job training does the rest. As a result, we can save valuable time and resources while encouraging the employees to interact with the new team member.
Career Planning
We know that HR has to decide who is most suitable for a role in the company. But does that mean the employee has to stick with that job or niche as long as they work in the same organization? Well, at NewAgeSys, we do not believe so.
We believe our employees must have a chance to pursue alternative future career paths if they have a suitable talent set. Hence, we always try to bring out the talent in our employees to find out where they can produce their best work and provide them with a chance to grow out of their shells.