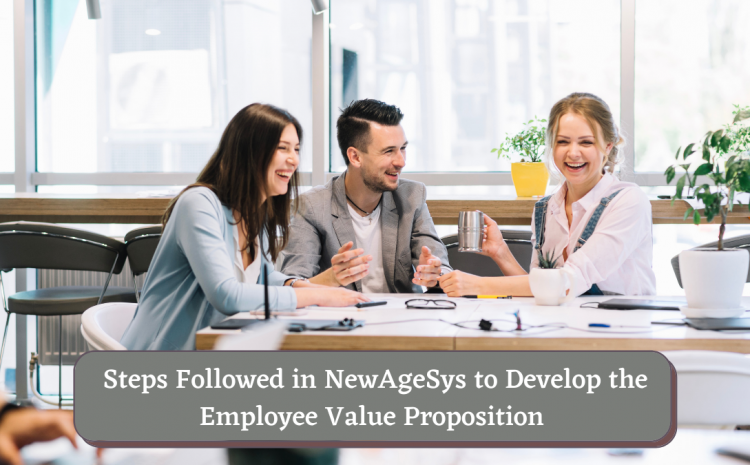 Steps Followed in NewAgeSys to Develop the Employee Value Proposition
At NewAgeSys, we always make our employees valued and ensure job satisfaction. The employee value proposition is a great way for us to provide the work satisfaction of our employees. Below are some steps that NewAgeSys employ to develop the Employee Value Proposition.
#1 Remuneration
Remuneration is perhaps the most straightforward way we provide the employees working at NewAgeSys for developing Employee Value Proposition (EVP). By paying our employees a higher rate than our competitors, we ensure that our employees have a positive perception of the company.
However, mere remuneration is not an effective strategy in the long run unless a company has a good work environment. Despite all the money a company can give its staff, a miserable work environment can push away top talent from the company.
#2 Positive Work Environment
As we briefly mentioned above, a positive work environment is necessary to develop EVP regardless of the company's remuneration package. The employees working at NewAgeSys enjoy a high-standard workplace that offers everything from top-quality furniture to refreshments.
We also allow our staff to work from the comfort of their home. For the young workforce, we provide a chance for recreation so that they can always recharge themselves after and between a long day of work. Creating a good work-life balance is essential to maintaining a company's quality of work.
#3 Corporate Culture
Another aspect that organizations need to consider while developing EVP is the corporate culture. We make sure that our applicants feel that they can identify with our corporate culture. It is essential to do this because the company culture often reflects its stand on all issues.
Many applicants looking for long-term employment prefer to choose an employer that shares their views when it comes to fundamental ideologies. In other words, people want to work in a company where they wouldn't have to question their conscience.
#4 Career Growth
For many people, career growth is more important than anything else. Career opportunities and promotion prospects alone could be a decision changer for a new applicant. As a business organization, we ensure the employees working at NewAgeSys we provide our employees are encouraged to learn new skills.
We provide training courses that enable our employees to learn new skills and grow their expertise. Companies should also offer the prospect of managerial positions to promising employees. Apart from this, it never hurts to have some home-grown talent.
#5 Job Security
No one wants to work for an organization that does not offer them sufficient job security. It is one of the reasons why highly-established companies have the edge over agile start-ups. Stability and job security are something every person craves, and it would be best to highlight the same.
Hence, it is suitable for companies to flex their long history, consistent growth, etc., to their potential employees. Knowing that the job is protected from any commercial perspective reassures the applicant about the company and their job prospects.
#6 Tracking Competitors
When preparing an EVP for a business organization, it should never copy the competitors blindly. If organizations do so, they will get on a slippery slope that leads to the organization having no unique selling point or resonating with their target audience.
However, tracking the competitors and their EVP can be extremely handy at times. A good strategy is to find out what is lacking in the competitor's EVP and implement practical solutions for the business.
#7 Identify Organization's Strengths
When identifying the strengths of a business organization, it's best to look at it from the employee's perspective. Hence, there is no better way to identify such strengths than asking the employees directly.
A questionnaire or detailed interview is the best way to get the required information from the employees. Organizations must ensure that the questions asked on the questionnaire or interview focus on the employees' views of the company and how they think it could be made better.
Conclusion
Employee Value Proposition can be tricky sometimes. There are several steps business organizations can take to develop a good EVP. All business organizations must consider using the steps listed in this article to attract and retain top talent in the industry.