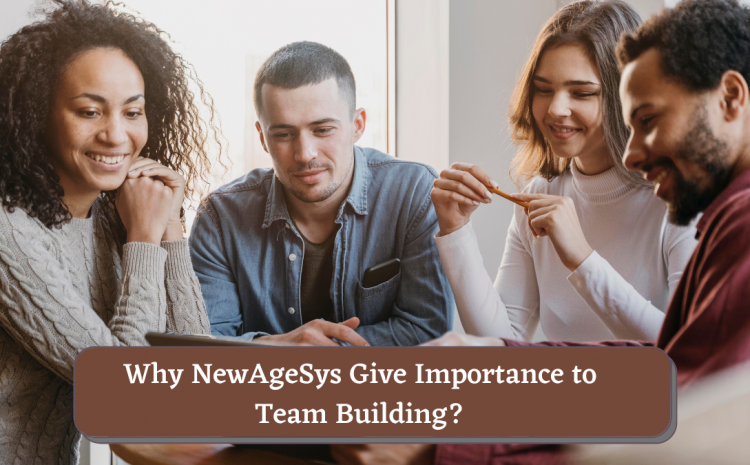 Why NewAgeSys Give Importance to Team Building?
Business organizations can never hope to reach optimal productivity without having an excellent team-building process. There are numerous benefits involved in team building. This article explains how NewAgeSys has benefitted from team building and the positive changes it brought to our organization.
Team Building Equals Trust Building
Trust within a business organization is essential for its success. Building trust is an integral part of team building. As teams work together, they will learn to rely on each other and trust their role in the group.
When team members trust each other, they give each other their respective space. And as each team member get autonomy over their work, they become more creative and accomplish their goals without fail.
Team Building Regulates Communication
One common characteristic of any good team is the healthy communication they have. With team building, businesses can encourage their employees to talk to each. Hence, they can discuss the task at hand and develop practical solutions to their problems as a team.
Life at NewAgeSys has always encouraged interpersonal communication. We have greatly benefited because of the work culture we cultivated where teams can talk freely within themselves. Furthermore, we ensure that our employees can communicate freely with managers and administrators.
Team Building Boosts Productivity
Teamwork and productivity are the two sides of the same coin. Life at NewAgeSys focuses on team building for reaching optimal productivity. Even the most complex projects become relatively easy when all hands are on deck.
Team building holistically enhances the productivity of organizations and every individual inside them. Furthermore, working closely with their team members enables each individual to pick up new skills and brush up on the old ones.
Team Building Brings People Together
One of the most underappreciated aspects of team building is its ability to bring people together. For most people, their relationship with the team they work with has a significant impact on their job satisfaction.
Team building significantly improves the interpersonal relationships within an organization. As they work in close quarters, teammates start to share their professional and personal experiences. It leads to team members trusting each other and working together towards a common goal.
Team Building Encourages Creativity And Learning
Another great thing about team building is that it lets our employees learn from each other and help them learn new skills. A work environment with good teamwork makes room for new and fresh ideas.
The involvement of every team member will also help us bring in new perspectives, which can further enhance our problem-solving capability. By bringing together individual experiences, we can pool the creative talent and get inspired by one another.
Team Building Leads To healthy Competition
Healthy competition is a great way to boost the productivity of any business organization. People put more into their work when competing against someone or for something. Our team-building process also includes fun games and exercises where different teams compete against each other.
The reason for conducting such games is quite simple. During such competitions, we can create team spirit among the employees. Furthermore, you can also let teams work with other teams to improve their communication and collaboration skills.
Building Makes People More Accepting
Workers or employees are becoming more and more inclusive of all forms of diversity. It is high time that businesses recognize this and use team-building. It helps their employees to be more accepting of people from different cultural and gender backgrounds.
Furthermore, we try to make our teams more diverse in terms of ethnicity and background. When a group has diverse members, they tend to be more creative because of their more accepting nature.
Conclusion
Team building is essential for every business organization regardless of their industry vertical. At NewAgeSys, we always give priority to team building. As a result, we have created teams that can deliver even the most complex projects using innovative solutions. 
Team building ensures that our projects are always delivered on time and that our productivity is maintained at an optimal level. Every business organization must make it a point to invest their time and effort into team building. Why? Because it can help businesses optimize their business operations from the inside.