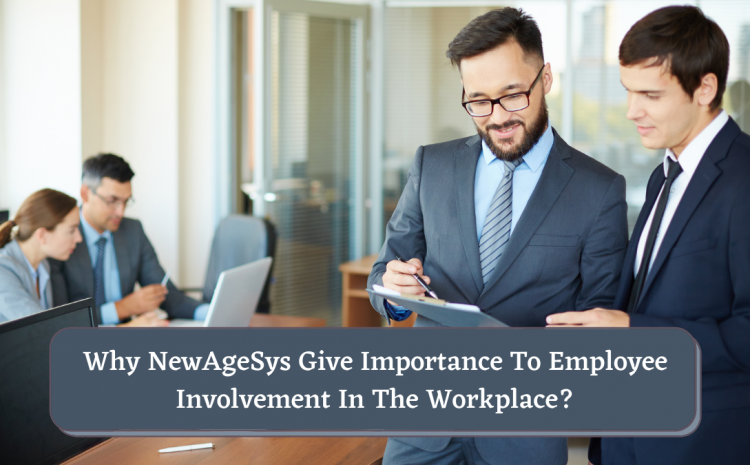 Why NewAgeSys Give Importance To Employee Involvement In The Workplace?
What Is Employee Involvement?
Employee involvement can be defined as the practice where the employees of a company participate proactively in business operations. Proper employee involvement leads to the growth of the business and the fulfillment of its mission.
In other words, employee involvement is a work culture where they don't just mundanely go about their daily tasks. Instead, they take on an active role in the management and decision-making processes of the business.
Employee involvement is not limited to the seniors or leaders in a company. Each team member of a company plays an important role in the growth of your company, no matter how small a contribution they make.
Challenges In Ensuring Employee Engagement
Perhaps the major challenge in boosting employee engagements within an organization is the resistance from many managers and supervisors. First, however, the business must get over these resistances and build a friendly work environment for their employees.
The Importance of Employee Involvement
Now that we know what employee involvement is, let's see why it is so important for companies. Understanding the significance of employee involvement is essential for any organization that wants to provide quality products or services to its customers. Here are some ways employee involvement can help you optimize your business operations.
Build A Sense Of Community
Although there are certain challenges involved in employee involvement, it is still worth your effort. It lets you build a sense of community within your business, resulting in organizational strength and better overall performance.
Motivate Your Employees
Employee involvement creates a sense of responsibility which ultimately motivates your employees to improve their quality of work. So, every time you ask for employee feedback or act on such feedback, the employees feel valued by the company. Such inclusive work practices are one of the things that ensure job satisfaction for all our employees.
There Is Less Friction To Changes
We live in a fast-paced world that is constantly changing the way it works, and it is inevitable for businesses to change with it. It is why life at NewAgeSys is also continually evolving. However, such changes can often cause friction among the employees as they may feel overwhelmed or helpless to these changes. But, proper employee involvement can alleviate all their concerns.
Attract And Retain Top Talent
As far as employees are concerned, there is nothing more valuable than job satisfaction. They want a sense of autonomy over their work and be appreciated for it. Furthermore, what is the point of hiring the best talent in the market if you confine them instead of encouraging them to reach their full potential? Hence, employee involvement makes sure that companies can attract and retain the best talent in the market.
Build An Environment Of Continuous Learning
When you have some of the best talents in the industry working for you, it is only natural they want a work environment that lets them learn new things. Therefore, we at NewAgeSys always encourage our employees to learn and improve their skills through targeted training opportunities, special seminars, and more.
You Get Happier Customers
We know employee involvement leads to job satisfaction. And when your employees are happy with the work they do, it also reflects on their work and behavior in the workplace. Customers are quick to pick up on the demeanor of company employees, and when they feel well taken care of, they also feel happy.
Encourage innovations
Employee involvement encourages a positive work environment where the workers don't feel they have to hold back their ideas. Your employees know more than anyone else what works for your company and what doesn't. Hence, their deep insights can lead to innovative solutions that can change your company for the better.
Conclusion
Regardless of their industry vertical, every business must realize that employee involvement is a big part of efficiently growing your business. It may not be easy for companies to establish employee engagement, but it is worth all the effort it takes. Life at NewAgeSys focuses on making all of our employees feel involved in all aspects of the business. As a result, we can provide better and innovative services to our valued clients.