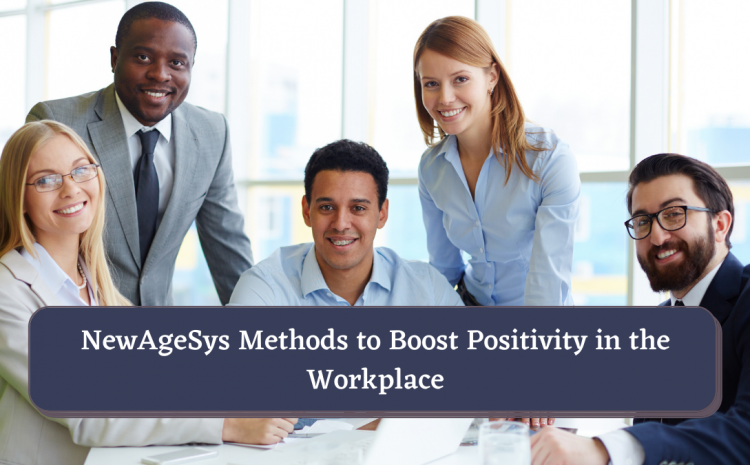 NewAgeSys Methods to Boost Positivity in the Workplace
Ensuring positivity at the workplace is not nearly as easy as it sounds. But, over the years, we were able to develop methods that were effective in reaching this goal. Here, we are sharing our experience in creating a positive work environment and how we could achieve it.
Make Mental Health Of Your Employee A Priority
The stigma that a person's health only concerns their physical well-being is long gone, and mental health is finally getting the attention it deserves at a workplace.
Your employees can't possibly work to their full potential with deteriorating mental health. Furthermore, they can harm their team as well as the business.
We ensured life at NewAgeSys is never too stressful for our employees through attractive Employee Assistance Programmes or EAPs. Allow your employees to get the support they need by giving them access to in-person, online, and telephone mental health support services.
The Physical Look & Feel Of The Work Surrounding
The surroundings in which people work can significantly impact them and even affect employee morale. We ensure job satisfaction and proper communication between team members through collaborative workspaces.
Consider providing break areas and private spaces that allow your employees to choose where to work.
By providing several options, you can encourage your employees to work where they are most comfortable and get the best results.
Conduct Company Events
Developing a sense of belonging and promoting a collective spirit can go a long way in helping your business succeed in today's highly competitive world. One of the best ways to achieve such an immense goal is by conducting company events.
Life at NewAgeSys always has some color because of the variety of events and celebrations hosted by the company. We use off-site and on-site social events to promote interaction between our employees and create a sense of unity among them.
Health Is Indeed Wealth
We have already discussed the importance of promoting mental health for ensuring job satisfaction. The physical health of your employees is just as crucial in ensuring a positive work environment as their mental health.
However, it can be difficult for your employees to go to the gym regularly or go for a morning jog with a hectic work and personal life. You can promote the physical fitness of your employees by opening a well-equipped gym at the office and even rewarding them for using the facilities.
Streamlining The Lines Of Communication
Effective communication in your company can ensure a positive work environment. Suppose the employee feels that their feelings and opinions are not valued. In that case, it can significantly affect employee morale and not in a good way.
Even your customer service can suffer significantly due to improper communication inside the company. Hence, we created strong lines of contact for our employees. We even conduct a monthly catch-up to exchange ideas and discuss our long-term goals and progress as a company.
Promote And Celebrate Diversity
Believe it or not, diversity is a vital part of ensuring a positive work environment and offers many benefits to your business. Perhaps the most significant advantage of promoting diversity at the workplace is that it enables you to get the best and brightest talent.
Furthermore, employees appreciate a work environment that judges them for their work rather than anything else. Make it a point to celebrate local and diverse cultures, especially during festive seasons, so they know you value and appreciate your employees.
Open Up Opportunities For Career Development
It is only natural for your employees to learn and grow their skillset as part of their career development. Encouraging your employees to accomplish their goals enables them to use their newly-acquired skillset for your company.
But more importantly, it can boost your retention rates and ensure that your employees are loyal to your company. The training you provide should help them develop both hard and soft skills and make way for professional development.
Conclusion
Boosting positivity in the workplace can help your business in more than one way. However, it takes time and effort to accomplish this, and the methods we have discussed above can go a long way in helping you achieve this goal.