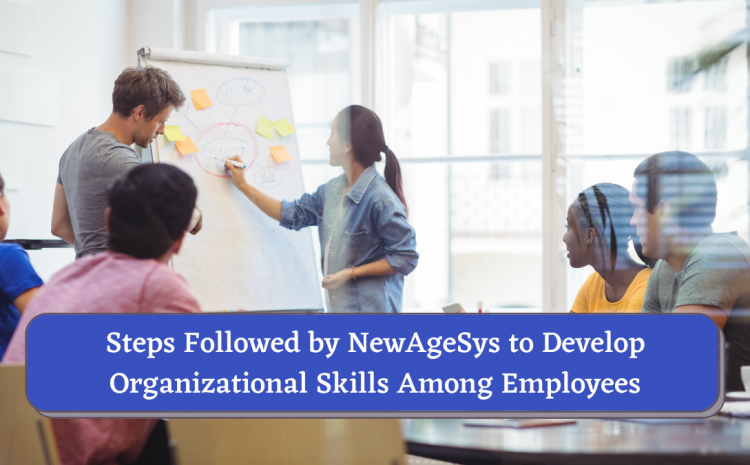 Steps Followed by NewAgeSys to Develop Organizational Skills Among Employees
A workplace no matter how big or small needs structure. Employees need to feel organized in order to give their best at the job there. One way NewAgeSys ensures this is by strictly working on building organizational skills.
Organization skills – What is it?
Organizational skills are a set of skills that would help the employees of a company do their work in a better and structured way and hence bring cohesion and discipline in the organization. Some advantages of developing organizational skills include:
Better time management 
Building a goal-oriented mindset 
Reduced stress
Lower chances of making errors and mistakes
Unfortunately, no one has ever been able to identify a specific set of skills that works for every organization out there. It turns out to be a subjective thing that has to be broken down and thought about by the leaders of a company as to what works best for their employees. It is, however, not a one-way communication as it applies to both the trainer and the trainee. We ensure that employees develop good organizational skills while working at NewAgeSys so that they do their best in their work but also in their personal life. 
Why are organizational skills unavoidable in the workplace?
Promoting an efficient working culture: When people have control over their duties, responsibilities and keep a tab of the work done to track their own progress – it increases the performance rate and decreases the number of mistakes and errors.
Building a strong and successful team: A good team encourages each one of its members to do better and be more productive. While working at NewAgeSys, we make sure to understand the team dynamics altogether as well as recognizing the capabilities of each member in that. In order to ensure that mentors can allocate work wisely, set achievable targets and deadlines, track progress and receive timely feedback. This would ultimately result in a healthy work culture in the organization.
Constructing professionalism and credibility: Trust is one thing that has to be constantly built in the workplace. The internal stakeholders have to trust the organization as well as each other. Only this could ensure a smooth flow of work and a sense of unity in the company. They have to feel as if the organization has got their back just in case they fall short of something – and this feeling will go a long way as far as building a loyal employee base is of concern.
Reduced amount of stress: When an organization is structured and disciplined, automatically the employees feel at ease and decluttered, here we make sure to take measures to make the members stress-free while working at NewAgeSys. This would create a great impact in the overall development of work culture in the longer run. 
6 ways to ensure maximum benefit from organizational skills for employees
Time management
When employees are aware of what happens around their clock they are able to get a better clarity of their work, maintain a life outside the organization, avoid unnecessary stress and chaos etc. In order to help them do that the organization could plan work ahead, give reasonable deadlines, schedule occasional breaks, avoid multitasking, understand the breakpoint and limitations etc. 
Planning, Scheduling and Prioritizing
Planning helps a person to identify what lies ahead for them, Scheduling also helps in prioritizing the tasks, allocating resources, estimating the time and Prioritizing helps to identify what needs to be done first and to avoid wastage of time.
Allocation of resources
This is of paramount importance as the right allocation and investment on the most valuable teams brings in the most measurable returns.
Delegation and collaboration
A good organization would understand the strengths and limitations of their employees and delegate work as well as encourage them to collaborate with each other. This will help to form a better work culture and community and could be developed through social events, meetups and other activities.
Maintaining efficiency
The amount of work done does not matter as long as it is not efficient. The efficiency in an organization could be ensured through setting goals, delegating work, cultivating feedback culture, recognition and reward systems etc.
Communication
All the above mentioned would not be possible without clear communication. The organization needs to establish a respectable two-way communication system which would help build motivation, better employee relationships, morale, productivity etc. 
Organizational skills are more of healthy habits than a company requirement. It is important to dive deep into the pain points of the employees of an organization and come up with a set of skills to be developed. Only then will the company achieve both tangible and intangible growth.