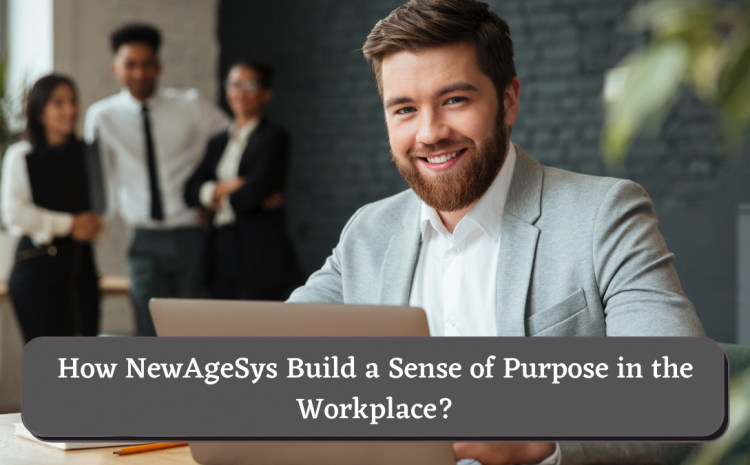 How NewAgeSys Build a Sense of Purpose in the Workplace?
Finding a sense of purpose in life may not be easy, but building a sense of purpose in the workplace is relatively easy. It may be the work itself or the numerous challenges it puts forward. And sometimes, this purpose may come from being able to help others through your work.
As a company, NewAgeSys has always emphasized the significance of having a shared sense of purpose. Hence the company has made every effort to make life at NewAgeSys worthwhile. Below, we discuss some of how we could build a sense of purpose for our employee's life at NewAgeSys.
Encourage Your Employees to Chase After The "Why"
The first step of creating a sense of purpose is defining it. Companies should try to make their employees understand why the company does what it does. But, usually, most companies get stuck on what they do and often forget the why.
Encourage a Sense of Purpose Outside The Workplace
Don't force a purpose on the employees now that we have told you that you should instill the company's purpose. You should do it in a way that your employees proactively work for a common goal. It would help if you also encouraged them to develop a sense of purpose outside the company. Encourage your employees to pursue their hobbies so that they don't feel drained out.
Ensure Your Employees Know That Their Work Matters
Teamwork is without question the only way for a business to succeed. You can encourage your employees to invest more effort into their work by letting them know that their work matters. Life at NewAgeSys is engineered so that every employee knows that their work is valued.
Ask Your Employees What Their Sense of Purpose is
The easiest way to find out an employee's sense of purpose for working in your company is to ask them. Research shows that people tend to work a lot more efficiently if they consider the job their calling. In comparison, people who work for the sake of working may never be as productive. So, you can try to get feedback from the employees and adjust the roles that are best suited for them.
Provide Opportunities to Learn And Grow
One of the best ways you can get the best results from employees is to learn and grow with your company. By enhancing their skill set, you can benefit from their growth too. An opportunity for your employees to learn and develop their skills through training programs or challenging tasks is valued by the employees too.
Give Rewards And Recognitions to Your Employees
Giving rewards and recognition to well-performing individuals is an excellent way of boosting morality. By doing so, you are letting your employees know that they are valued. As a result, employees are motivated to put in more effort to reach the company's common goal.
Show Appreciation to Your Frontline Workers
The thing about most employee motivation is that it is targeted at the office employees most of the time. So, the frontline workers usually go unnoticed or underappreciated. Start by showing your appreciation for the frontline workers and making them feel a part of the company.
Prioritize The Safety of Your Employees
As a company, you must do everything you can to ensure the safety of your employees. It means not just physical security but financial safety as well. Introducing attractive health packages is an example of how you can prioritize safety. It also shows that your company cares and values its workers.
Provide Different Opportunities to Submit Feedbacks
Create more opportunities for your employees to provide feedback. It is not enough that you take the feedback. You also need to show that their feedback is valued by implementing good ideas. You may even conduct surveys for doing this.
Conclusion
Creating a sense of purpose in the workplace takes effort and time. Businesses must be ready to invest their time and heart into creating a shared sense of purpose inside the organization. It may not be easy at first, but it is possible to achieve this goal by following the right strategies and steps like the ones listed here.