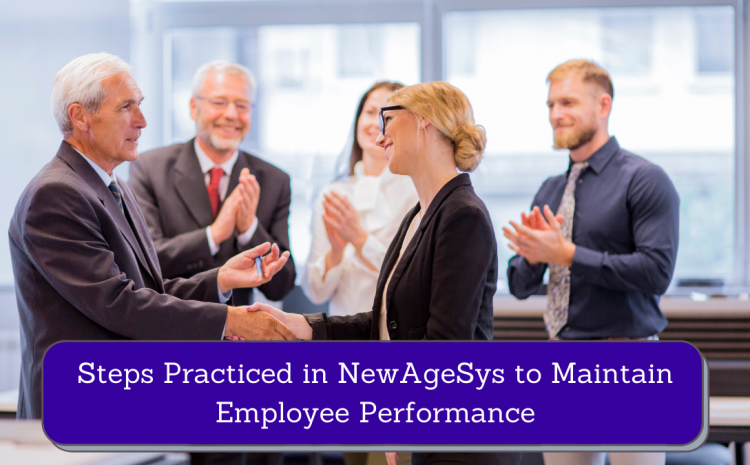 Steps Practiced in NewAgeSys to Maintain Employee Performance
Employee performance is an essential aspect that can be a determinant of the success of your organization. However, it is also one of the aspects of a business organization that is hard to control. Many factors come into play that can influence the employee performance of your company.
At NewAgeSys we have formulated some effective steps that have helped us significantly boost employee performance. As a result, the employees working at NewAgeSys have time and again established themselves as a dependable team that always delivers the desired result.
In this article, we will shed light on how we were able to boost the performance of employees working at NewAgeSys through a step-by-step process. Below, we discuss each of the steps we took to help employees working at NewAgeSys boost their performance.
Establish Your Goals And Assign Duties
We know it's hard for employees to exceed expectations, but do you know what is even worse? To set no expectations is the worst of all! It is not enough that you establish a goal for your business. You must make it a point to clearly communicate that goal to your employees.
Set ambitious goals but ensure that they are achievable by your employees. Furthermore, you should carry out continuous and yearly reviews to ensure that the goals are met sustainably. Using 360-degree feedback can also help you in achieving this.
Create a Positive Work Environment
There is nothing that can replace a positive work environment. A good work culture can motivate your employees to be more productive and come up with out-of-the-box ideas. Rather than focusing on the mission or vision of the company, you should focus on the company values.
You should ensure that the employees that follow the company values and deliver results are rewarded. Try to create a work environment where everyone feels safe to share their ideas as well as concerns.
Recognize Effort And Award Incentives
Few incentives can efficiently boost employee performance better than incentives. Make it a point to recognize the effort put in by your employees and let them know that their work is appreciated. Invest your time to create an incentive program that includes both monetary benefits as well as social recognition.
Listen to Your Employees
Your employees are more likely to have ideas through which you can enhance the work-life at your organization. Therefore, you should communicate with your employees regularly and create opportunities where they can share their ideas and perspectives. In addition, consider using an AI-assisted feedback system to facilitate immediate feedback from the workforce.
Keep The Employee Morale High
High engagement is often the result of high employee morale. One of the effective ways to do this is through recognition of the efforts of your employees. You should also avoid micromanaging your employees and instead try to make them more proactive about their work. Furthermore, you should let your employees know that their feedbacks or ideas are valued through your actions.
Encourage Employees to Practice Self-Care
Practicing self-care is essential to keep your mind sharp, and hence you must encourage the same for your employees. Overworking your employees will ultimately prove to be counterproductive.
Ensure that the work does not take a toll on your employees emotional and mental health. Encourage your employees to practice self-care by paying subscriptions to meditation apps or rewarding healthy habits.
Encourage Professional Development & Growth
Provide opportunities to your employees to develop and grow their professional capacity. Encourage your employees to undertake training and hone their skills.
You can also consider sending your employees to industry conferences and familiarizing themselves with best practices.
You can even go so far as to provide scholarships for your employees to pursue higher education or certification exams.
Conclusion
It is vital for business organizations to always keep a high and sustainable employee performance to ensure long-term success. The steps we have discussed above can help you meet your business goals like it has helped NewAgeSys.
However, maintaining employee performance is not a one-time task. You must be ready to put in continuous effort into ensuring that your employees are taken well care of to maximize your employee performance.