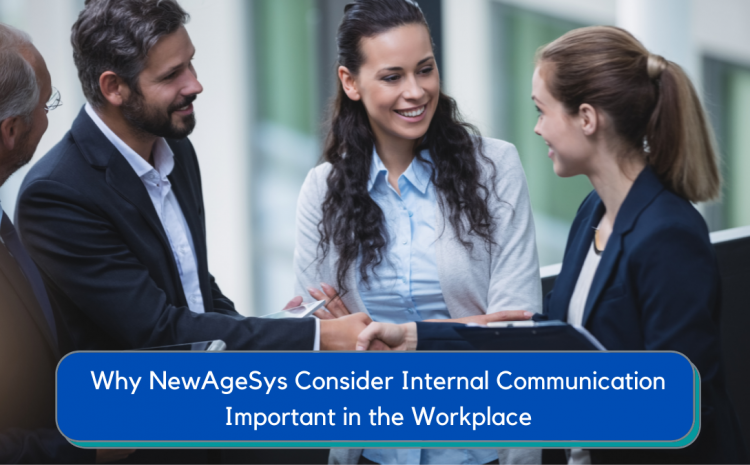 Why NewAgeSys Consider Internal Communication Important in the Workplace
According to previous research by jostle.me, 'Internal communication is all about promoting effective communications among people within an organization.' It involves producing and delivering messages and campaigns on behalf of management, as well as facilitating a dialogue with the people who make up the organization.
Being a part of the industry for a long period of time, we at NewAgeSys have understood that, effective internal communication is crucial for the growth and success of our company as it ensures clarity for everyone in the organization and keeps employees up to date.
Over time, we have realized that it is this communication, transparency, and feedback that has allowed us to remain true to our quality. It has allowed us to be the best in the game and helped us to continuously improve our products and services for our valuable customers.
Apart from the above-mentioned points, there are multiple other reasons why we at NewAgeSys consider internal communication extremely important in the workplace and they are as follows:
1. Internal communication provides a more holistic view of the organization:
The first reason why we at NewAgeSys believe internal communication is important in the workplace is that it allows us to have a more holistic view of the organization which truly contributes to the betterment of the organization. We ensure that internal communication is a two-way street and it takes into consideration every employee's opinion and ideas so that everyone feels like a part of the bigger picture. It also fixes day-day issues at every level of the organization to help operations run smoothly. This kind of communication ensures that the organization as a whole is motivated to put in their 100% to ensure the satisfaction of our customers.
2. Internal communication builds stronger teams:
We have understood that internal communication is important during life at NewAgeSys as it builds stronger teams. Internal communication has ensured proper collaboration among various teams in the organization which has proved to increase the overall productivity. The proper transmission of information amongst all our employees has helped increase employee happiness and engagement levels. This in turn leads to everyone working together and understanding our company culture better.
3. Internal communication provides focus points:
Internal communication has played a vital role in helping employees understand focus points during life at NewAgeSys. Internal communication is used to guide teams on how to prioritize and delegate work so that team and company goals are achieved without any complications. We have understood that clear internal communication amongst teams ensures that employees and leaders are aware of deadlines and how to achieve these deadlines. Effective communication has also allowed us to help employees understand how small day-day goals fit into the overall success of the company.
4. Promotes continuous improvement and change:
We have also noticed that our effective internal communication allows room for change and continuous improvement without any disagreement from employees. Since the world is moving fast and there are constant technological developments, it is important that we keep up with these trends to stay in the market. And so, having proper internal communication has helped us respond quickly to unexpected changes and situations.
5. Betterment of our HR practices:
At NewAgeSys, effective internal communication not only creates a link between various departments for easy transfer of information but also builds and improves our HR practices. Our well-designed communication chains help our HR department to understand our employee's needs and wants better. It also allows the human resource department to easily take feedback from our employees on a regular basis to make our workplace as comfortable and engaging as possible. Our HR department strives towards helping our employees reach their goals and build policies that include their concerns regularly.
In conclusion, we have understood internal communication has helped build trust, mutual respect, and collaboration amongst our employees. It has also lead to the reduction of conflicts to build stronger teams and relationships between all levels of the organization. We at NewAgeSys believe that there is always room for improvement and so, we continuously work towards improving the efficiency and effectiveness of our internal communication so that the organization remains intact and eventually prospers over time.