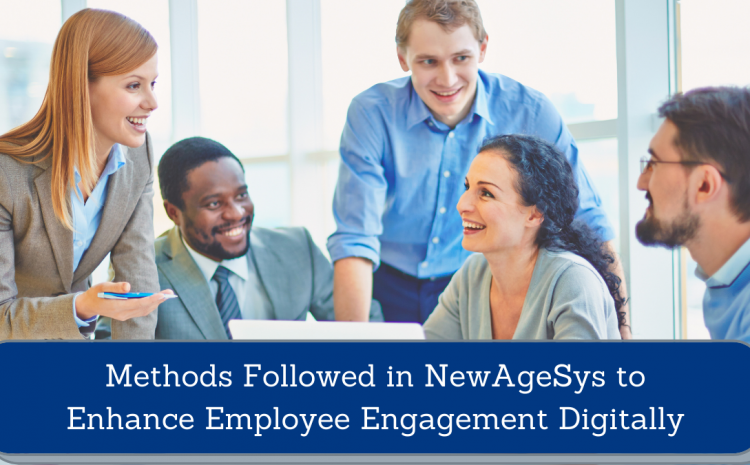 Methods Followed in NewAgeSys to Enhance Employee Engagement Digitally
Corporate culture is no longer what it used to be just a few decades ago. It has grown and evolved over the years. The evolution of technology and its prominence in the corporate world has brought us to the digital front to the extent that people working in close quarters in a closed space still chose to use the digital medium to communicate.
At this point, it is only natural that companies shift their attention towards employee engagement through digital channels. Today as more and more corporate businesses are shifting an all-digital approach for their working and communication, it is quintessential that you learn how to enhance employee engagement digitally.
This article discusses how employees working at NewAgeSys enjoy engaging digitally and how we have accomplished through meticulous planning and due process. Below we discuss some of the ways we have manages to enhance employee engagement digitally for the staff working at NewAgeSys.
Real-Time Appreciation
Employees want to be appreciated for their work and the effort they put into their work; this is not a piece of new news to businesses. But, what you might be missing is that a large portion of the current workforce is tech-savvy millennials and Gen Z's. One thing special about this age group is that they are known for always being connected to the digital world.
Millennials and GenZ work smart to reach their goals faster. They expect their efforts to be appreciated almost instantly, and they are very serious about it that they may even consider switching their workplace if they don't feel appreciated. Therefore, organizations must adapt real-time appreciation if they want to retain their best talents.
Encourage Skill Building
We make sure the employees working at NewAgeSys feel valued and ensure their digital engagements by encouraging them to build new skillsets or reshape their existing ones. Employees today wish to learn something new from their workplace which will help them get ahead in their careers.
More often than not, employees cannot pursue learning new skillsets while working because of their workload, personal responsibilities, and so on. Therefore, as an employer, you should make it a point to give them the opportunity to acquire new skills and better themselves. This will raise employee morality and create a positive bond between the employees and the company.
Virtual Team Activities
Team building activities are essential in bridging the gap between your employees, and it is the same when done across a digital platform. Having such activities not only allows employees of an organization to come together and interact with each other but can also be used to inspire them to achieve their professional goals. Even though these activities work best when the employees are physically present there, so long as you have the right idea and use digital tools that can support gamification elements, you can get the job done just as well.
Promote Peer to Peer Recognition
We know recognizing the efforts of your employees has immense significance for maintaining good morale at a workplace. But most businesses look at this only from the point of a senior employee acknowledging their subordinates when you should also be focusing on peer-to-peer recognition. You can implement peer-to-peer recognition at your work using cloud-based employee rewards and recognition platform.
Create a Virtual Community for Your Employees
The easiest step to enhancing employee engagement is to create a virtual community for all your employees to connect. You must encourage your employees to start a discussion on such virtual communities. You can even choose to keep such communities an informal affair as it would likely mean that the employees will take part in discussions and speak their minds.
Ensure Accessibility to all Necessary Tools & Resources
For ensuring that the employees engage effectively in the digital platform, you need to make sure that they have access to all the necessary tools and resources. The new-age employees belonging to the Millennial and GenZ age group demand the best tool at their disposal to directly affect their productivity. Furthermore, having access to advanced solutions ensures that they can be anywhere in the world and still get the job done for you.