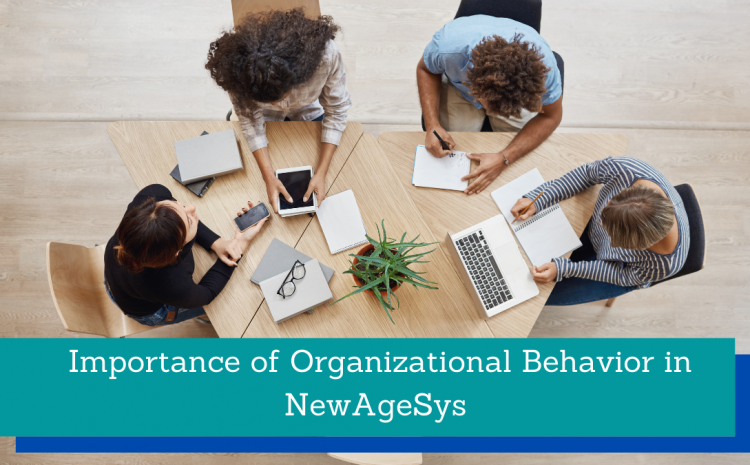 Importance of Organizational Behavior in NewAgeSys
Organizational behavior is one of the factors that dictate the success of a business through people management. The behavior of the people that work together with each other is quintessential for establishing a good overall efficiency of the organization. An in-depth analysis of your organization can reveal the bottlenecks in its communication. This article takes you through the life at NewageSys and how giving importance to organizational behavior has benefitted the firm in numerous ways.
What is Organizational Behavior?
Organizational behavior can be defined as the study of the interaction between people in a group or organization. The main goal of ensuring good organizational behavior is to improve the efficiency and effectiveness of an organization's workforce. Life at NewAgeSys is heavily influenced by the superior organizational behavior it follows and has proved to be crucial in the company's growth.
Organizational behavior simplifies the management of human resources and enables the employees to communicate and function better. When done right, organizational behavior has the potential to improve job satisfaction, enhance collective and individual performance, promote innovations, and foster good leadership qualities. Below we discuss how using organizational behavior has enabled us to make life at NewAgeSys easier for everyone who interacts within the firm.
Build Meaningful Workplace Relationships
The biggest struggle that an organization or group faces when it comes to optimizing its internal business operations is the lack of meaningful workplace relationships. The responsibility of ensuring there is no conflict between the people working in a company that could potentially affect their workflow falls on its leaders.
The leaders or managers of the organization must make it a point to figure out the issues that could potentially damage the employee relationship. Although this is easier said than done, you must do everything you can to build meaningful workplace relationships so that your company can move in the right direction. Organizational behavior is quintessential in accomplishing this.
Motivate Your Employees
Motivation is the key to meaningful employee engagement and productivity. You can be as strict as the military and still fall short of your target productivity rate because true productivity is achieved when your employees are as invested in your business as you are. Organizational behavior is the key to ensuring that your employees are motivated and ready to put in their best efforts.
You can get a clear understanding of the issues faced by your employees through organizational behavior. Once you have successfully identified the issues affecting the employee's motivation, you can find an effective solution for the issue and achieve greater efficiency.
Build a Psychologically Safe Work Environment
Studying the organizational behavior of your business will enable you to understand the influence you have on the employees and their minds. You can determine and examine your attitude towards your employees and analyze how they perceive the same. This will give you a clear picture of the psychological perception of your workplace.
It'll also help you determine whether your employees feel psychologically safe working there. A psychologically safe work environment must encourage new ideas, not make the employee feel judged, and enhance the organization's performance. By doing so, you can build a work environment where your employees feel at home and give you their best performance.
Nature of Employees
Achieving long-term success for your business is only possible if you have reliable employees that stick with you through thick and thin. Maintaining consistency is a challenge that businesses are yet to master because there are a lot of variables to be considered, and your employees are one of these variables.
With a behavioral study of your organization, you can find how your employees are interacting with each other and find the reasons behind deteriorating team unity. Solving these issues would naturally mean that your employees would want to stick with your company longer.
Higher Efficiency in Teams
The study of organizational behavior will help you get valuable insights that tell you the similarities and differences the people in your company share. Understanding these similarities and differences will enable you to better organize your teams and avoid any unnecessary conflicts. This effectively leads to better team unity resulting in good morale and confidence within your teams.