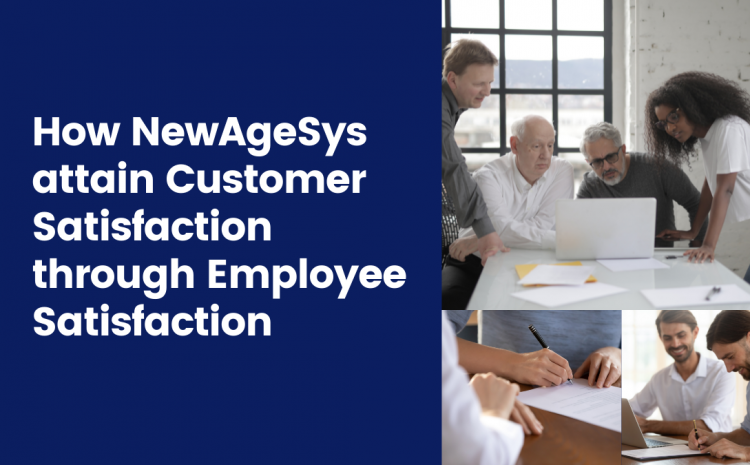 How NewAgeSys attain Customer Satisfaction through Employee Satisfaction
Employee satisfaction has always been at the core of everything we do at NewAgeSys. For us, employee satisfaction means ensuring that the employees at NewAgeSys are happy or content with the work they do. For any business or organization to be successful, it needs to take care of its employees and maintain their morale. The simplest way to ensure employee satisfaction is to develop a work culture and relationship that aligns the management's interest with the employees.
Employees who are not happy with their work or are not content with their work environment are not likely to put in their best effort. The solution? Ensure that your employees' needs are met, including monetary benefits or work perks like free food or flexible working hours. The point is to create a positive outlook in your employees towards your organization/company and its goals.
Some of the major reasons behind employee dissatisfaction include low compensation, limited career growth, poor management of projects, lack of learning opportunities, etc. In this article, we discuss some of the best practices that we at NewAgeSys have found to keep a high employee satisfaction.
Create a Positive Work Environment
More than benefits or work perks, the environment in which your employee works greatly affects their productivity and motivation. A person can not work at her/his best if they are feeling physically or emotionally drained. A good organizational structure can help employees avoid unnecessary conflicts or problems, but that alone is not enough to ensure employee satisfaction. Try bringing your team closer with interactive programs that can elevate the overall experience of the employees. Focus on creating open communication, building trust and healthy work relationships, and promote equal opportunities.
Give Feedback
In many situations, the managers often shy away from giving constructive feedback to their subordinates, but that is wrong if you want to ensure customer satisfaction. Your employees may feel unsure about their work and their effort if they do not get feedback from you. To ensure that your feedback has a positive result, you need to have a positive intent. Furthermore, the feedback must be constructive and genuine.
Rewards and Recognition
There is no better and effective way of boosting employee morale and ensuring employee satisfaction than rewarding them for a job well done. You don't have to go out of your way to reward each of your employees. But, it is necessary that they feel their work is appreciated no matter how small it may seem. Furthermore, rewarding the top performer with additional benefits can motivate all your employees to work harder.
Ensure Work-Life balance
It would be best if you allowed your employees to have the freedom to maintain a healthy work-life balance. No employee wants to work day-in and day-out while not getting enough time in their hectic schedule to spend with their family and loved ones. Therefore, you must initiate a work-life balance program such as the one accessible for employees at NewAgeSys. Additionally, to ensure the work-life balance of your employees, you can have one-on-one interactions with them and come up with flexible hours if needed.
Employee Involvement & Engagement
Involve and engage with your employees at every opportunity you get. Involve all your employees in a project even if their role is relatively short in it, and it is vital that they feel like a part of it. Create a sense of equality among your employees and reassure them that their work is important to you and your organization.
Help Employees Develop New Skills
Helping your employees gain new skills that can help them grow their expertise and career is a solid way to encourage employee satisfaction in your organization. Helping the employees develop new skills shows that you care about their growth and career development. You can even encourage them to learn new skills and procure certifications for certain skill sets.
Employee Well-Being
As an employer, you need to be attentive towards the well-being of your employees. This means not only their physical well-being of your employees but also their emotional, psychological, and financial well-being. Consider providing the employees with corporate wellness programs or counselling sessions to take the pressure of them.