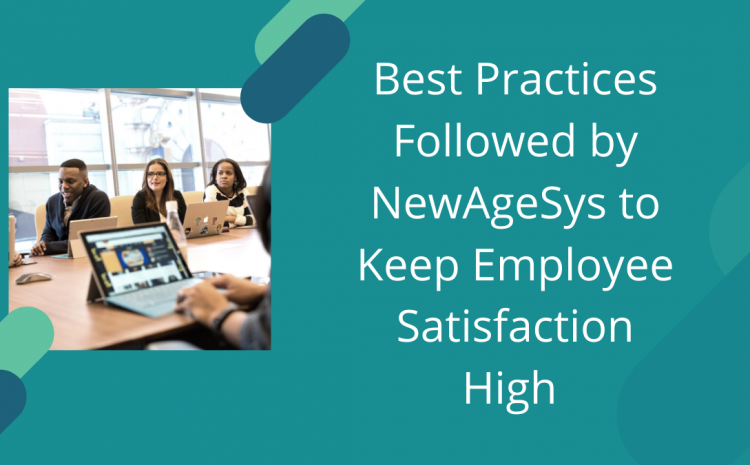 Best Practices followed by NewAgeSys to Keep Employee Satisfaction High
"Employees who believe that management is concerned about them as a whole person – not just an employee – are more productive, more satisfied, more fulfilled. Satisfied employees mean satisfied customers." – Anne M. Mulcahy


Employee satisfaction is one of the key elements to keep in mind while  building a strong management with well structured foundation. Employee satisfaction avoids unwanted drifts in the work culture providing employees with an optimistic approach towards their work.

Here are a few measures be followed by NewAgeSys to keep their Employee Satisfaction high:

1. An environment where employees wish to be working:

To maintain employee satisfaction, primarily the management should develop a positive approach within the employees. This will help them create a better personal space at work helping them to work more efficiently without worrying much about the workspace hassles. One of the key factors in creating a comfortable workspace is to ensure Communication between the management and the employees. By ensuring clear communication, employees tend to develop a better relationship with their co-workers and seniors in an aura of trust. This also helps employees to open up their issues to their immediate supervisors without hesitation.


2. 2 R Maintenance:

The 2Rs stands for REWARD & RECOGNITION, every employee in an organization lays a vital growth in its growth. Hence, we believe every employee should be rewarded and recognized for their work. The main aspect of maintaining the 2R's is to ensure that no employee's work is unseen and taken for granted and in addition to that these two R's will keep employees motivated and will spark a fire within themselves.


3. Ensuring Employee Skill Development:

By helping employees develop their skill set, organizations attain high employee satisfaction. Employees will attain the joy of their organization making sure that their employees develop personally and professionally for their career development. Employee skill development can also be an asset to the organization, if all the employees in an organization are skilled in various ways, it can result in a uniquely powerful organization.


4. Streamlined Process Flow Management :

An organization should stick to their workflow no matter what in order to attain employee satisfaction as well as growth. By following the process without fail, the employees will have a clearer vision of what is the next step to be taken in terms of their task. This allows employees to complete their task on time with utmost precision.

5. Employee Wellness Assurance:

It's more than necessary to ensure that employee wellness is assured at all times in an organization. Healthy employees build strong and efficient teams. So, employers should make sure that the team working for them is healthy and efficient at all times.

Organizations should be encouraging their employees by educating them about good diet, good food and things to make them feel better during stress hours. Provide them with various resources by out of which they can make a better lifestyle whilst balancing their work life.
Mental health is also one of the most important factors that needs to be well emphasized. Studies often report that employees commonly go through various kinds of stress and anxiety levels that leads to depressions or panic attacks. The main reason for these kinds of situations is the lack of concern and attention given from the employer.

6. Employee satisfaction close analysis and evaluation:

After applying all of the above mentioned steps, the most vital and inevitable step is to ensure that it's working. Yes, to make sure that your employees are satisfied in your organization. Continuous and comprehensive evaluations are required to track the process and fix the cracks if any occurs. As mentioned earlier, this can only be attained with proper communication with the employees.
An organization must follow various steps like these to ensure employee satisfaction. An organization with high employee satisfaction will have a highly enthusiastic and efficient team. Without maintaining employee satisfaction, the employees will not put their best foot forward which can affect other employees too leading to bad team formation.. An organization would never want the fire in their employees minds and their skills to be diminished. For which they have to ensure high employee satisfaction at all times.