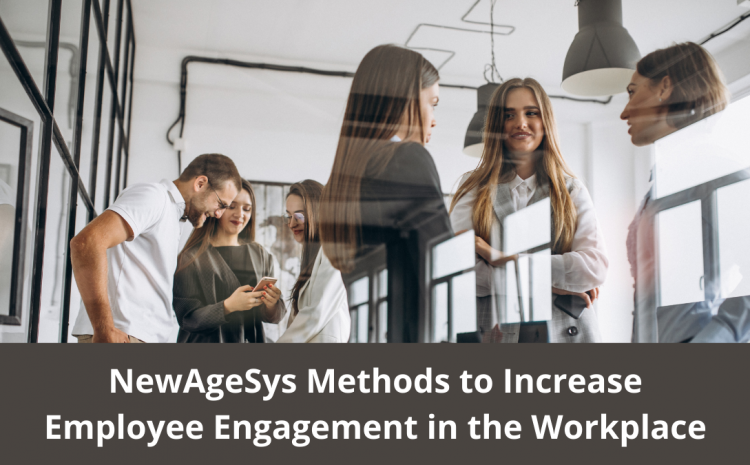 NewAgeSys Methods to Increase Employee Engagement in the Workplace
In the years of experience that we at NewAgeSys have had working in the market, we realized that the success of every organization is its employees. We understood that our employees are the assets of our organization and ensured that they are treated like that. We believe in keeping our employee engagement levels high in order to achieve our goals and objectives.
According to builtin.com 'employee engagement is defined as the degree to which employees are motivated by, passionate about, and invested in the work they do. Engagement also indicates the individual's commitment to the company and their emotional connection to the people they work with.'
And so, we strive towards increasing employee engagement on a regular basis so that we as a unit can achieve greater heights. Here are a few methods through which we at NewAgeSys increase employee engagement in the workplace:
Focusing on our mission and core values:
Employees feel more passionate and motivated when they have a goal to achieve or a mission to stick by. And so, while working at NewAgesys, we ensure that our employees are informed about our company goals, values, and missions. We train each employee in these values and help employees understand what exactly is expected from them. This way employees are clear of their roles and positively work towards the company mission while keeping in mind the core values.
Flexibility in the workplace:
At NewAgeSys we believe that providing flexibility to employees allows them to stay focused and avoid burnout. Employees are given the freedom to re-model their work schedules in a manner that suits their needs, but at the same time employees are reminded that they are to complete a certain amount of work time in a day. This balance and flexibility keep employees going and reduces employee turnover.
Encouraging feedback:
While working at NewAgeSys, we believe there is always room for improvement. Therefore, to increase employee engagement, we ask for feedback from employees on what we as a company could do better. All the team leaders and managers are asked to take feedback from each individual at the end of every month, this makes employees feel like their concerns are looked into. At the same time, team leaders and managers also provide employees with improvement strategies in a healthy manner so that together they can make the workplace more efficient and productive.
Volunteering and charity movements:
Every company has a corporate social responsibility and is bound to give back to the environment and the people to make a difference. We as a company firmly believe in this and make our employees feel the same. Our employees are reminded that we work for the betterment of society and are given volunteer opportunities every single week which has proved to increase employee engagement and also bring teams together.
Providing career growth opportunities:
We have understood that while working at NewAgeSys, every employee has a goal and a career path in mind. And so, we as an office ensures that we pave ways for employees to go up the corporate ladder and enter their dream jobs. We allow employees to conduct meetings and lead discussions in order to build their skills. Training programs and workshops are also a part of our company and employees from different departments take part in this to develop themselves for their future careers. We have noticed that focusing on individual employee's career growth plans increases employee engagement to the maximum.
Conduct informal gatherings:
Every employee wants some time off work with their colleagues where they can discuss their goals and plans in life. And so, we at NewAgeSys plan company outings on a regular basis where everyone can switch off from work and take a break. We have understood that this helps employees stay happy and motivated and increases employee engagement and productivity.
Lastly, we at NewAgeSys continue to believe that there is no secret to managing your employees and improving employee engagement, rather it is a continuous process that includes a lot of trial and error. At the end of the day, we want our employees to feel as productive as possible and so we continue to ask them what they want from us and continue accordingly.