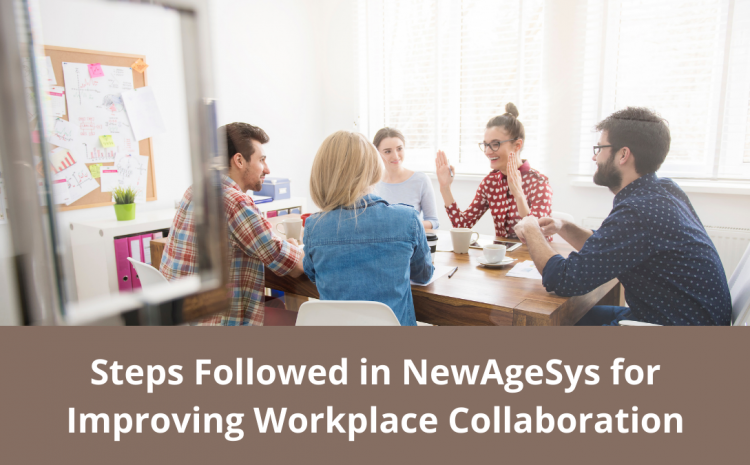 Steps Followed in NewAgeSys for Improving Work Place Collaboration
There were times when employees generated ideas individually and cohesive work environments remained a long-gone dream due to various organizational barriers. But as time changed and organizations developed, teamwork and collaborative employees became important to ensure the success of any organization around the world.
And so, just like every company, at NewAgeSys, workplace collaboration is given utmost importance and is practiced by employees on a regular basis. Through years of experience and interacting with customers, we realized that collaboration is a crucial part of every business and it improves the quality of work, productivity and increases the chances of success in the marketplace.
We at NewAgeSys make it a point that employees are taught to work in teams and brainstorm together from the moment they enter through the doors of our organization. This kind of cohesive work environment not only benefits us but also makes our employees feel belonged and happy to come to work every day.
Therefore, to understand our organizational culture of working together better, here are a few steps followed in NewAgeSys for improving workplace collaboration:
Encouraging openness and transparent conversations: While working at NewAgesys, the first step we follow to improve workplace collaborations is by encouraging open and transparent conversations between the company and employees. The company informs employees about the goals, objectives, and shortcomings without any hesitation so that employees together can formulate strategies to achieve these objectives. Employees are also motivated to communicate with each other so that the trust between them increases and they can work together without any hassle.
Using technology that builds teamwork: As we know, technology is taking over the world one network at a time, and we at NewAgeSys have started using technology to our benefit. In order to improve workplace collaboration, we have started using various software and tools that allow employees to work together without facing any technical issues. These kinds of software organize work in a systematic way and allow employees to divide the work amongst themselves equally. This is an efficient way to improve teamwork and productivity.
Establishing no-judgment: Another barrier that prevents employees from working together is the fear of judgement. And so, while working at NewAgeSys, we have established a no-judgment rule amongst employees which states that each and every employee is to keep an open mind during brainstorming sessions and clearly listen to all the ideas that everyone has for the organization. This way, employees feel more motivated to present their ideas in front of the team and receive healthy feedback. This improves the relationship between employees and encourages them to work together no matter what the situation.
Providing rewards and recognitions: A great way we have found to improve workplace collaboration is by providing employees and teams with rewards and recognitions for their hard work. These rewards and incentives usually involve taking the 'team of the week' out for lunch and providing a rest day for employees who show exemplary performance. These incentives and rewards constantly motivate teams to work better and reach their targets easily.
Managers as role models: While working at NewAgeSys we ensure that managers are leaders and are role models for their teams. We ensure that managers lead from top to down and work alongside employees. This improves trust between leaders and their teams, it means that the team can consult their manager incase of any issue at any time. Managers working alongside employees remind the employees that everyone is a part of the team and that collaboration is taken into consideration by each and every member of the organization.
Employees are treated as a community: The last thing we do here at NewAgeSys is treating employees as a part of a community. We support a sense of community that helps employees enjoy coming into the office and working with their peers. This helps everyone feel like a part of the bigger picture and encourages them to work together to improve productivity.
In conclusion, we can understand that encouraging workplace collaboration paves the way for effective interaction between colleagues which in turn means that employees work in teams, achieve organizational goals and take the organization to greater heights.