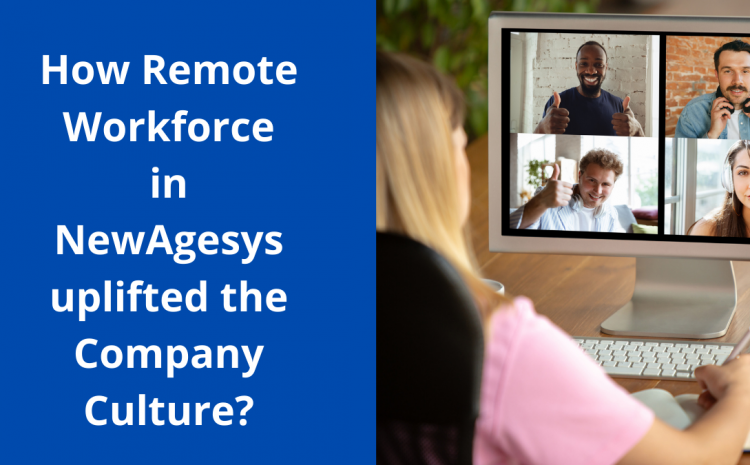 HOW REMOTE WORKFORCE IN NEWAGESYS UPLIFTED THE COMPANY CULTURE
At NewAgeSys, our culture and values are of utmost importance to us as we believe, it is what lays the foundation for a successful organization. Our culture has been carried forward since the time of establishment and has been portrayed in the way we work and also deal with our customers.
When the pandemic hit, this culture needed to be re-established and uplifted due to the remote workforce and employees working from homes. In order to do this, we as a team thought of new ways and strategies to keep our workforce engaged and culture ever so strong so that employees are motivated to contribute their maximum to their personal and professional growth even while working from the comfort of their own homes through a laptop screen and Zoom meetings.
Uplifting the company culture and ensuring employees know the importance of culture proved to be extremely effective during this challenging remote work period and ensured productivity and efficiency.
In order to understand this process better, here are a few ways in which the remote workforce in NewAgeSys uplifted the company culture:
Creatively engaging with employees: The first and foremost way in which the culture was uplifted in the remote workforce while working at NewAgeSys was by engaging with the employees creatively and through different virtual platforms. Each team and their leader had a period of 15-20 minutes wherein they would interact with each other and talk about non-work-related topics and take up activities that would build morale, teamwork and immediately re-established the organizational culture of looking into employee's well-being. Breakout rooms, Google Meet, etc. were used for this purpose and proved to be extremely helpful.
Constant feedback and suggestions: Another way in which the culture was uplifted in a remote workforce was ensuring that the employees and the team could provide constant feedback and suggestions to each other at the end of every day and come up with strategies that allow the company to perform better and achieve goals. This ensured that the employees felt belonged and as a part of the company even while working from the comfort of their own homes. This feedback process made the employees want to work better and help each other while working at NewAgeSys.
Providing required support and training: To make working at NewAgeSys an extremely pleasant experience and for uplifting the culture in a remote workforce, we ensured that required support and training was provided to employees who were completely new to the world of working from home and a virtual office. Training on how to use certain platforms such as Microsoft Teams, Zoom, Google Sheets, etc. to their maximum capacity was provided so that employees do not face any confusion and can do their day-day tasks easily. We at NewAgeSys also provided support in terms of helping employees set up a home office so that they were able to work without any distractions and were able to establish a work-life balance.
Welcoming employees with the team: At NewAgeSys, in order to ensure employees are reminded that they are a part of something bigger, both old and new employees in the remote workforce and welcomed in front of the whole team in the zoom team meetings every morning. This makes the employees feel more comfortable and encourages them to ask questions without any kind of hesitation. This also proved to be effective for employees who are new to this kind of work environment and helped us introduce our strong organizational culture to them. Making employees familiar with each other and the team is key to team building and achieving organizational goals.
In conclusion, we at NewAgeSys realized that even during these challenging times and shifting to remote work it is our employees and our strong organizational culture that was especially uplifted during this time that kept us together and motivated us as a whole to work and do better. We, like every other company, strongly believe that if we continue to portray our strong working culture in everything we do, we will gain our customer's trust, employee happiness and also establish ourselves effectively in the marketplace where we can compete and grow.